Exclusive
'Mob Wives' Stars React To Alicia DiMichele Quitting The Show: It's Time For Her To Focus On Her Kids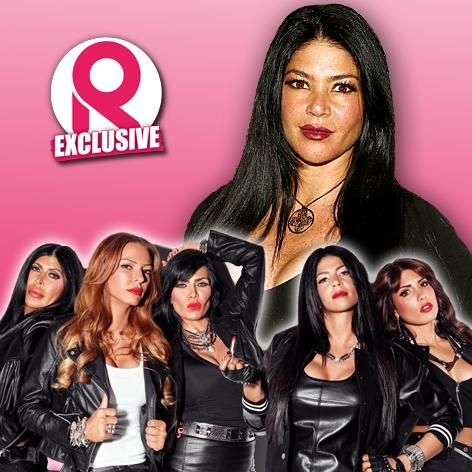 Despite the explosive drama brewing on VH1's Mob Wives, the outspoken stars are sticking by Alicia DiMichele, who resigned from the VH1 show amid her ongoing embezzlement case – which she recently took back a previous guilty plea.
Speaking exclusively to RadarOnline.com, Renee Graziano, Natalie Guercio and Drita D'avanzo candidly opened up about DiMichele's shocking decision to quit the hit show and weighed in about her possibly spending time behind bars.
Article continues below advertisement
Although DiMichele shamed Graziano for allegedly talking about her ongoing fraud case behind her back, Graziano isn't holding any grudges.
The Hottest Stars From Reality TV
"Honestly, I was a little surprised she joined the cast because of her whole court case. The show didn't bring her any good, so I can see why she's pulling out now," Graziano told Radar.
"She is a mom and has to do what she needs to do for her three beautiful children, who don't deserve to be pulled through the mud. She is doing the right thing leaving the show, and I wish her all the best," the Playing With Fire author added.
Firecracker Natalie Guercio spoke highly of her co-star's strength and perseverance as her legal woes are played out in the spotlight.
Hollywood Divorce Lawyers Tell All: Prostitutes, Cross Dressing, Drugs & More Shocking Split Secrets
"Alicia had a story to be told, and she did it with class. Alicia has inspired so many young women around the world, including myself, with her strength, courage and her will to fight and survive… Now it's time for her to focus on herself and her family. I'm very proud of her and support her in her decision: Family over everything!" Guercio told Radar.
Article continues below advertisement
Drita D'avanzo also weighed in about DiMichele's current legal situation
"I was shocked," D'avanzo stated. "I'm not happy about her resigning. I don't want her to leave. I mean, she has to do what's best for her family, and obviously I'm on her side whatever road she chooses to take. She had a very hard time on this show."
D'avanzo continued: "All her f**king business ends up everywhere whether it's true or not. It's awful."
As Radar previously reported, DiMichele's spouse Edward "Tall Guy" Garofalo, Jr. is serving a seven-year sentence in a New York prison in connection with a conviction on murder conspiracy and witness tampering charges last year.
In December, DiMichele confessed that she is worried about the outcome of the sentencing.
"Yes, I am very nervous," she told Radar. "But I'm a very positive person and I'm just thinking completely positive. I put everything in god's hands, and I have faith and I'm hoping that it'll all work out for the best and that I'm not taken away from my children."
No matter what, the reality star knows that she will handle the judge's decision, whatever it might be, as best she can.
"I know if I have to serve time, I'll be fine," Garofalo said. "But I just still don't like to go there in my mind."