Exclusive
Face-To-Face: 'Mob Wives' Star Alicia DiMichele Garofalo Asks Judge To Allow Jailed Husband To Attend Her Embezzlement Sentencing Hearing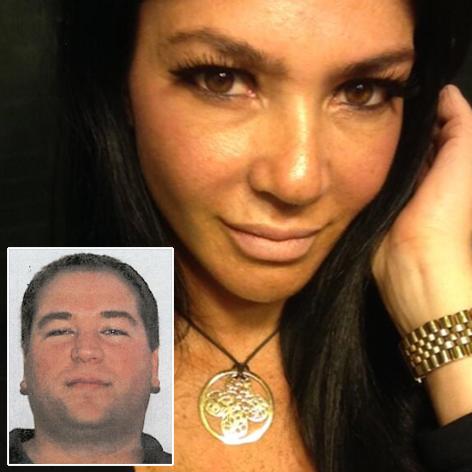 Alicia DiMichele Garofalo is set to come face-to-face with her imprisoned husband Eddie "Tall Guy" Garofalo this week, as he testifies in court about her role in the scheme that got him incarcerated, RadarOnline.com has exclusively learned.
Eddie is currently serving time in a Brooklyn prison, after he was sentenced to seven years in prison on charges of murder conspiracy, extortion and witness tampering. The Mob Wives star plead guilty to charges of fraud and embezzlement and will be sentenced on April 23.
Article continues below advertisement
In court documents obtained by RadarOnline.com, Alicia asked the judge to allow her estranged husband to come to her sentencing hearing and to delay his transfer to FCI Berlin prison in New Hampshire.
"He is willing to testify and has been served with a subpoena… However, if Mr. Garofalo is transferred, we will be compelled to seek an Order returning him to MDC to be held pending the hearing and that may result in delay of the proceedings," she stated in the documents..
"It would certainly cause unnecessary expense, as Mr. Garofalo would have to be transported back and forth to New Hampshire twice."
The judge has signed off on the order, which orders the warden at the Metropolitan Detention Center in Brooklyn, N.Y., to keep Eddie in custody until the hearing.
Hollywood Divorce Lawyers Tell All: Prostitutes, Cross Dressing, Drugs & More Shocking Split Secrets
In the documents, the judge commands that Eddie "remain under safe and secure conduct at the Metropolitan Detention Center" and the warden "shall provide such suitable quarters and provide for the safekeeping, care and subsistence of EDWARD GAROFALO, JR. as is necessary until the conclusion of a hearing presently scheduled for April 23, 2014."
Article continues below advertisement
As fans of the show know, Alicia started a trucking company with her husband and worked as a bookkeeper for the business. But nearly four years ago, she was busted alongside her husband and others in connection with charges of fraud and embezzlement.
Not surprisingly, Garofalo is worried about the outcome of the sentencing and is frightened about the prospect that she might have to serve time in prison.
"Yes and I suffered some severe anxiety as a child, like my whole life, so the thought of that alone and even when I go on visits, it's really hard for me to comprehend," she admitted to RadarOnline.com in December.
"I know if I have to serve time, I'll be fine," Garofalo said. "But I just still don't like to go there in my mind."