Michael Douglas -- 'Never Take Your Marriage For Granted,' He Says Of Catherine Zeta-Jones, 'Cherish Your Partner'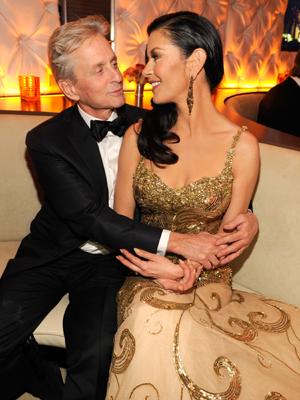 Michael Douglas is focused on family, and in a new interview with the And So It Goes star, he opens up about his marriage to Catherine Zeta-Jones and what a joy fatherhood has been.
"You can never take your marriage for granted," he told People magazine.
"It goes to the idea of where you spend your energy and attention: Do you spend it with strangers, trying to show everybody how nice you are? Or do you cherish your partner and really don't worry about other people?"
Article continues below advertisement
After announcing they were separating in 2013, Douglas, 69, and Zeta-Jones, 44, decided to work on things and reconciled in early 2014.
"Like a lovely orchid, or anything else that's nurtured, marriage prospers and grows, but if it's ignored, it withers," Douglas said.
"You also have to be careful because kids are all-consuming. Kids have no sense of boundaries yet. You can exhaust yourself with the energy you put into your children so there's none left for the two of you. It's a dangerous seduction you fall into, with the best intentions. You have to watch that one."
Douglas has a 35-year-old son, Cameron, from his first marriage and he and Zeta-Jones have two kids together; Dylan, 14, and Carys, 11.
The son of Hollywood legend Kirk Douglas, the two-time Oscar winner advises on being honest with your children, even through the rough times.
"I'm more and more prone to tell kids just about everything. There's been a while school of thought about things you should not tell children — if there's a problem in a relationship, people say, 'Let's not let the kids know,'" he said.