Exclusive
Michael Douglas And Catherine Zeta Jones To Spend Their Birthdays 'Apart'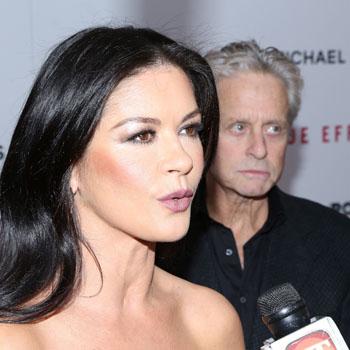 He might have thanked her in his acceptance speech at Sunday night's Emmy Awards, but more telltale signs are emerging of the deep division that is plaguing the troubled 13-year marriage of Michael Douglas and Catherine Zeta-Jones
The pair are celebrating their birthdays on the same day this week -- Wednesday -- but will do so alone and thousands of miles from each other, RadarOnline.com has learned.
Article continues below advertisement
Douglas, who is turning 69, has returned to New Mexico, where he is filming The Reach, a movie based on the novel Deathwatch.
"Michael left Los Angeles soon after his Emmys win and is back on set and working again," a source told RadarOnline.com. "He will not be in New York for his birthday. He and Catherine will be spending their birthdays apart."
Split From Zeta-Jones Confirmed
Zeta-Jones, who will turn 44 on the same day as the man she married in 2000, has returned to New York from a visit to China's Shandong province, where she stepped out at a star-studded event on Saturday, to announce the launch of a new $5 billion film studio.
"Catherine will spend her birthday with Carys and Dylan," the couple's two children, added the insider.
The couple announced Aug. 28 that they were taking time to evaluate their marriage, but Douglas told reporters a week later that "My wife and I are, are fine."
On Sunday night, as he accepted the Emmy for his role as Liberace in the HBO film Behind the Candelabra, Douglas thanked his estranged wife.