Riding Solo! Michael Douglas Arrives At The Emmys Alone -- As Estranged Wife Catherine Zeta-Jones Dazzles In China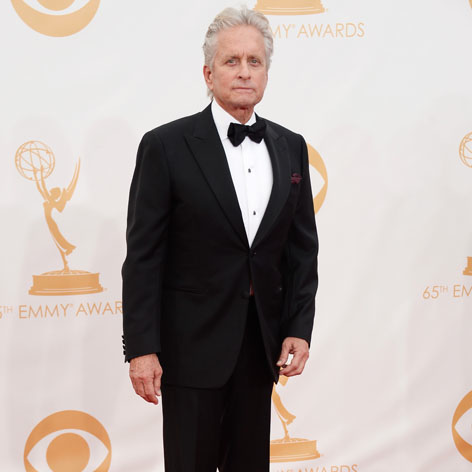 Catherine Zeta-Jones was a no-show on the red carpet at the Emmys on Sunday.
The Welsh beauty – who is normally draped across her husband's arm at every awards event – was noticeably absent when Michael Douglas arrived without her.
In fact, just 24 hours earlier the 43-year-old actress was pictured thousands of miles away on a red carpet in China, arriving for an event without her husband of 13 years by her side.
Article continues below advertisement
Last month the couple announced they had separated but there was no sign of strain on the actor's face when he turned up at the high profile Hollywood event.
The Behind The Candelabra star has received a Lead Actor nomination for his portrayal of Liberace in the HBO movie.
He stopped to talk to E!'s Ryan Seacrest but neither man mentioned the elephant in the room – that the 68-year-old's wife was not present.
Instead Michael chatted happily about playing the flamboyant pianist, saying: "He was so joyful. He loved life. He loved beautiful things…
"It freed me up particularly as I had a whole cancer battle. I had to do this right afterwards. I just inherited this general feeling of 'free at last'."
The father-of-three was also practically giddy when he bumped into Jim Parsons of The Big Bang Theory, who also stopped to chat to E!
Michael shook the young star's hand and said: "I'm such a fan of yours. My kids…that's the only reason they're here."