Michael Douglas: 'Oral Sex Caused My Throat Cancer'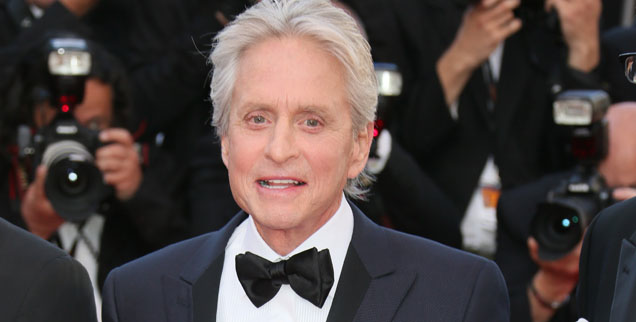 Michael Douglas has revealed that the throat cancer that almost killed him was the result of oral sex!
Asked by The Guardian newspaper if he'd regretted his years of smoking and drinking, assuming they were the cause of his cancer, Douglas responded,
"No. Because without wanting to get too specific, this particular cancer is caused by HPV human papillomavirus, which actually comes about from cunnilingus.
Article continues below advertisement
"I did worry if the stress caused by my son's incarceration didn't help trigger it. But yeah, it's a sexually transmitted disease that causes cancer. And if you have it, cunnilingus is also the best cure for it."
Douglas, who is married to Catherine Zeta-Jones, didn't specify how many years ago he might have been exposed to HPV.
He was in the UK promoting his Liberace bio pic, Behind the Candelabra when he made his candid comments.
MORE ON:
Catherine Zeta-Jones
The 68-year-old actor also spoke about his eight weeks of chemotherapy and radiation, and losing 45 pounds because he was restricted to a liquid diet.
He's now two years clear of the disease and feeling extremely optimistic about his future.
"With this kind of cancer, 95 percent of the time it doesn't come back," he said.
"It has been established beyond reasonable doubt that the HPV type 16 is the causative agent in oropharyngeal cancer," Dr. Mahesh Kumar told The Guardian.
However the head and neck specialist took issue with Douglas' belief that more oral sex will help prevent the disease from returning.
"Maybe he thinks that more exposure to the virus will boost his immune system. But medically, that just doesn't make sense," Dr. Kumar said.