L'Wren Scott's Sister Lashes Out At Womanizing Mick Jagger: 'And People Wonder Why She Was So Depressed,' She Says Of Suicidal Fashionista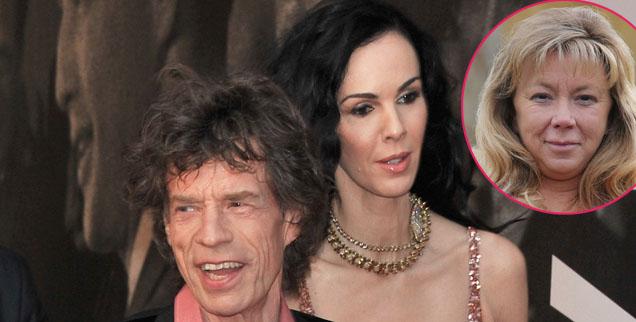 L'Wren Scott's sister is lashing out at Mick Jagger after photographs of him surfaced last weekend already cozying up to a young brunette, just two and a half months after his girlfriend of 13 years took her own life.
"And people wonder why L'Wren was so depressed?" the fashionista's sister Jan Shane blasted.
In an interview with UK's Sunday People, Scott's sister said the Rolling Stones frontman "will never change" his ways and she doesn't think he looks very distraught at losing his girlfriend.
Article continues below advertisement
Scott, 49, was found dead in her Manhattan apartment on March 17 where she'd hanged herself by tying a scarf to a door handle.
"These pictures make me really wonder what Mick is really thinking and feeling. His daughter says that he is still heartbroken and so devastated about losing my sister," Shane, 53, said.
"And then you see these photos he will never change."
But another friend charges that Jagger, 70, uses women to make himself feel better.
"Some men drown their sorrow in drink. Mick doesn't drink much but he drowns his sorrows in women," the source said.
"He has reverted back to his old ways. This is how he deals with things, even in his 70s. Through good times and bad, the thing that never changes is Mick's love for women. Sex is like a coping mechanism for him."
Although Jagger was said to be catatonic with grief following Scott's suicide, he appears to have moved on with the mystery woman.
Article continues below advertisement
"He grieved hard but Mick is someone who has always loved life and loves women," a source told The Mirror.
"This is just Mick being Mick and moving on the only way he knows how."
The photos were taken in Zurich where Jagger reportedly met the young woman in a nightclub after a Rolling Stones concert, and show the young lady wearing one of the singer's button-up shirts while he's shirtless.
"Well at least my sister is happy now. She is with Mum and Dad in Heaven and not hurting in any way now. L'Wren was always at her ­happiest when she was with my mother and father," Shane -- who was estranged from Scott at the time of her death -- said.