Oh, Happy Day! The Little Couple: Jen Arnold Beats Cancer, Celebrates Turning 40 With Her Family At The Seashore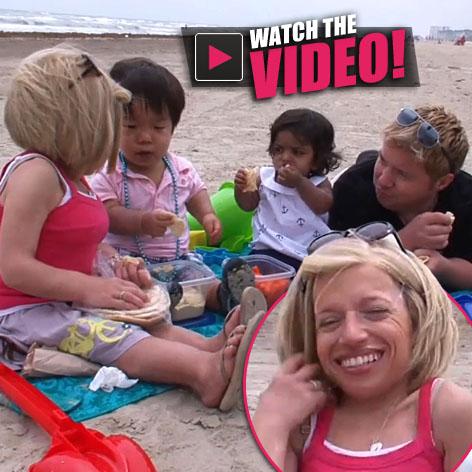 The Little Couple star Jen Arnold has beaten cancer and is celebrating turning 40 doing what she loves best—being with her family at the beach!
Fans of the hit TLC reality show will share Arnold's joy as she spends a day at the seashore with her husband Bill Klein, and adopted son Will, 4, and daughter Zoey, 2, in Galveston, Texas.
As RadarOnline.com's sneak peek video clip shows, although the weather is cloudy, Arnold doesn't let it get her down and crows, "I'm at my happiest when I'm at the beach. For me, any day at the beach is a good day at the beach."
Article continues below advertisement
And Arnold should have many more happy days--because the reality TV star recently announced via Twitter that she'd won her battle against cancer. As Radar readers know, Arnold was diagnosed last year with choriocarcinoma, a cancer caused by a non-viable pregnancy. But after chemotherapy, she's now in remission and ready to celebrate her milestone birthday, which actually happened on Jan. 1.
But going back in time on the show, Arnold says, "Mommy's turning 40," to Will and Zoey as they eat lunch on the sand.
When she then tests her son Will, asking how old she is, he replies, "Three."
Arnold laughs warmly, "Three. I love it! I wish! I'm 4-0. I'm ten times as old as you.
"I can't imagine any better place to spend my birthday than on the beach with you guys."
The Little Couple airs Tuesday at 10 PT/ET on TLC.