Exclusive
Inside 'The Little Couple' Star Jen Arnold's Fight For Life: 'Rough Days' Battling Complications, Parenting Responsibilities… And All With UNBELIEVABLE Courage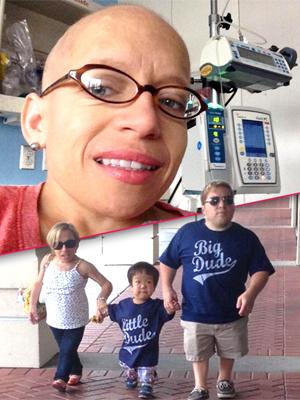 Dr. Jen Arnold is bravely facing her fight to live with the bravery, knowledge and hope — and she's documenting the entire inspirational journey for her fans via social media.
As RadarOnline.com previously reported, the star of TLC's The Little Couple, 37, announced in December that she had been diagnosed with stage 3 choriocarcinoma, a rare cancer that formed during a non-viable pregnancy she had in September.
Article continues below advertisement
The courageous 3'2" reality star underwent a hysterectomy and started treatments immediately.
But since then, the neonatologist, who has dwarfism but is still able to work at the Texas Children's Hospital, has battled a series of complications — or "rough days," as she's characterized it to supporters.
The most serious was the discovery of a low blood count, which made it too unsafe for doctors to deliver another dose of chemotherapy.
Undeterred, she has detailed the issues via frank confessions online and held little back from those desperately supporting her battle.
"Dreaming of being on the beach today instead if feeling tired from chemo!" Arnold wrote on December 29.
But the mother-of-two is refusing to let her treatment prevent her from continuing her parenting duties, sharing: "After my treatment we are off to speech therapy with Will! Busy day today!"
Article continues below advertisement
By her side throughout the ordeal has been husband Bill Klein, 38, son Will, 3, whom they adopted from China and a 2-year-old daughter Zoey, whom they recently adopted from India.
Proving she's selfless, Arnold has focused on the light of her life -- those two children -- and even once suggested to fans they too get a flu shot, like she, Bill and their children!
Writing on Twitter Jan. 4, she said of her gorgeous kids: "I just love seeing Will and Zoey get closer! Will is such a great big brother. Can't wait to have more energy for them!!!"
And On Dec. 24, she said of Zoey: "She's adorable & Will is an amazing big brother! Giving her plenty of time to transition."
The Hottest Stars From Reality TV
The outpouring of love for Jen has been immense, with fans sending her positive notes and accolades, especially for her brave new wig choices.
Said one fan: "It looks REALLY natural and pretty!"
Send Arnold your well-wishes in the comments below.