The Little Couple Cancer Fight: Mom Jen Cancels Chemo To Enjoy Christmas Holiday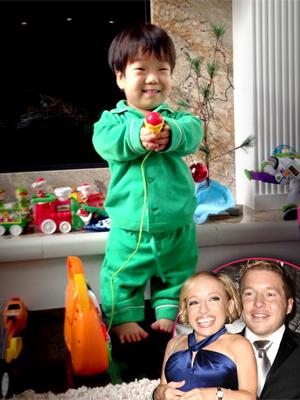 UPDATE: Dr. Jen Arnold wanted to explain the reason to RadarOnline.com the medical decision was reached about her chemotherapy being canceled. "Chemo was canceled only because her blood counts were too low making it unsafe to give another dose. Jen got that missed inpatient treatment Thursday as her counts are improved. She would never cancel treatments on her own without the recommendation of her oncologist."
Article continues below advertisement
* * *
The Little Couple mom Jen Arnold has been bravely battling her rare cancer diagnosis but she shared the good news that she was able to cancel her chemotherapy in order to enjoy the Christmas holiday.
Showing off adorable pictures of her son Will meeting Santa and playing with his toys the proud mama beamed about her blessings online.
"Cancelled chemo= feeling better for holiday= energy for baking Christmas cookies with kids & @ReallyBillKlein- Life doesn't get much better!" Jen wrote on Twitter and then proceeded to go on a cooking binge, with all sorts of holiday treats.
MORE ON:
The Little Couple
But it was the children she and her husband Bill Klein have now, both adopted from out of the country and both have Dwarfism, that brought the most happines to her.
"You will get to meet Zoey soon! She's adorable & Will is an amazing big brother! Giving her plenty of time to transition," she revealed about the daughter they brought home from India.
And the photo of her son was the most joyful one of all.
"Will wishes everyone a happy, peaceful, and karaoke filled Christmas!"