'I Can't Believe It Is Happening': 'The Little Couple' Star Jen Arnold Tells Of 'Terrible' Mood Swings After Diagnosis With Rare Cancer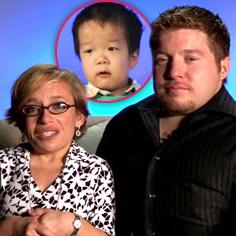 Dr. Jennifer Arnold, the inspiring star of TLC's The Little Couple, opens up about her ongoing battle with a scarce form of cancer called stage 3 choriocarcinoma and details how she is struggling with the diagnosis.
The resilient Arnold told People she's had mood swings with the somber news, as "there are moments I feel just terrible -- I can't believe it is happening.
"Other times, I feel like this is just a bump in the road."
Article continues below advertisement
Arnold said her battle began after a pregnancy, with her husband Bill Klein, that turned out not to be viable, but later revealed cancerous growth.
"We had figured, there's no chance of me getting pregnant," she said. "The one time I get pregnant, I get cancer."
More hardship came for Arnold after she suffered severe pains while in India, to finalize the adoption of her daughter Zoey.
"My initial thoughts were all about Zoey, but then the bleeding got worse and I was feeling light-headed. It was a hard decision, but I had to go home," she said regarding leaving India en route to her native Houston. "I wanted to be there, but it wasn't smart for me to stay."
Arnold has also encountered numerous issues in her treatment due to her diminutive size.
"I felt like I was in another dimension," she told the magazine. "Sometimes I think, 'Seriously, really how can this be happening?'"
Dubbing Arnold's ailment "a very rare situation," Dr. Concepcion R. Diaz-Arrastia, who is treating the reality star, told the magazine he looked around the country for an oncologist with experience in treating stage 3 choriocarcinoma in a patient who has skeletal dysplasia, with little luck. Further complicating issues, Arnold had to have a hysterectomy after a dangerous growth was detected in her uterus.
Article continues below advertisement
"We wanted to avoid surgery in her case because of her shortened airway and the difficulties she has had in the past with surgeries," Diaz-Arrastia said. "But we felt we had no choice. The disease was not responding to chemotherapy. We had to do this in order to save her life."
Of a case of pneumonia she suffered after the hysterectomy, Arnold said at one point, she reasoned, "If the cancer didn't kill me, I was worried infections could. I felt terrible."
One silver lining to the litany of hardships Arnold and Klein have endured, has been the solace Arnold receives from their children, Zoey, and son Will.
"I don't feel well a lot of the time, but even if I am lying on the couch and watching them play, at least I am there. I am there around them, and that is a blessing," she said.