The Little Couple Heartbreak: Mom Jen Arnold Diagnosed With Cancer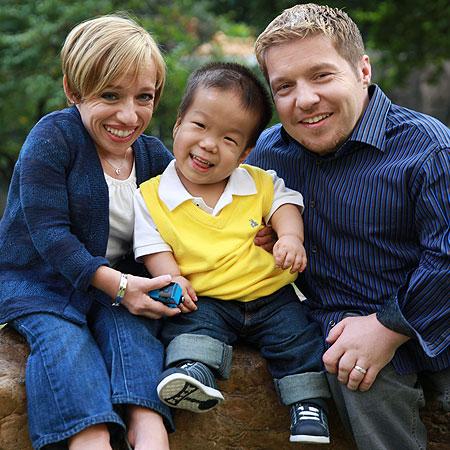 Jen Arnold, The Little Couple star and new mom of two, has been diagnosed with a rare form of cancer.
The reality TV mother won over the hearts of America as she shared her life with her husband Bill Klein, both of whom have dwarfism, and their struggles to expand their family, recently adopting two children who also have dwarfism.
"I have recently been diagnosed with a rare type of cancer and am currently undergoing treatment, including surgery and chemotherapy," Jen told People magazine.
Article continues below advertisement
"I am very fortunate as the prognosis is good. While there is never a good time to get news like this, getting it just as we are building our new family is tough in many ways ... But being surrounded by the love of my husband and our two beautiful children is actually in many ways giving me the strength to fight it even stronger."
Jen and Bill adopted their son Will from China and recently brought home a sister for him, a little girl named Zoey who was born in India.
According to the magazine, Jen has endured approximately 30 surgeries related to her dwarfism. She is not releasing any details about her form of cancer at this time, but she is a doctor herself, a neonatologist in Houston and will undoubtedly be receiving excellent medical care.
The couple spoke to RadarOnline.com exclusively earlier this year about the joy in their lives as their family grows.
"Jen is exactly what you would expect a parent who is a well-educated pediatrician with a huge heart to be," Bill said about his wife.
But he also said she's a softy.
"She is light on the discipline," he said. "She just can't get angry and the good thing is if I break him she can fix him."