Exclusive
Welcome To The Family! The Little Couple Cried When They Met Adopted Son With Dwarfism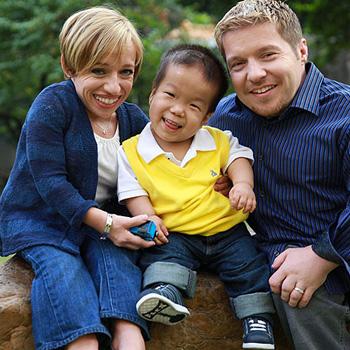 Dr. Jen Arnold and Bill Klein are over the moon with happiness since adopting their Chinese son with Dwarfism and they gushed exclusively to RadarOnline.com about finally fulfilling their dreams of becoming parents.
"My favorite part of the day is when Will wakes up," Bill said about his 3-year-old son.
The Little Couple traveled to China for two weeks to bring their little boy home and Bill said it was "amazing" the second they met him.
Article continues below advertisement
"Jen started crying," he revealed, and then admitted that he "cried a little bit, but didn't let anyone see."
The new mama says they met Will and he immediately said "mommy" and "daddy" in Mandarin and that was when she fell in love.
"When he cried out to us it made me well up," Jen fondly recalled. "He instantly had me wrapped around his little finger. He sealed the deal in the first minute."
Now that they have the little boy — who they had been calling Ben before they adopted him to protect his privacy — home in the United States they're both embracing their new roles as parents.
"Jen is exactly what you would expect a parent who is a well educated pediatrician with a huge heart to be," Bill said about his wife.
But he also said she's a softy.
"She is light on the discipline," he said. "She just can't get angry and the good thing is if I break him she can fix him."
Jen says Bill's daddy skills are "impressive."
"I always expected him to be a fun dad," she said. "I'm the maintenance mom who feeds him, practices his ABCs with him. Bill just loves him and plays with him."
The Little Couple stars said they're keeping the cameras running for their fans as they become parents and watch their son grow.
"We are excited to share and raise awareness about Dwarfism and hope this will let people see that little people are happy too. We want to get rid of the stigma and we've learned so much that we're thrilled for other folks to see what we can do and what they can do too."
The Little Couple share their heartwarming adoption when the series returns to TLC on April 30 at 10/9c.