He's Turning Maroon With Embarrassment! Lindsay Lohan List Member Adam Levine Denies Having 'Sexual Intercourse' With Actress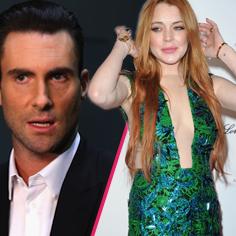 Less than two months after James Franco denied having sex with Lindsay Lohan in a Howard Stern Show appearance, Adam Levine has taken the same tack.
The Voice hunk said he never had sex with the actress, despite his name being on an infamous list of her past lovers, a virtual who's who of actors and musicians.
The Private Parts star asked the Maroon 5 frontman, "By the way, you were listed on Lindsay Lohan's sex list, that you had sex with her, I didn't know this …
Article continues below advertisement
Stern asked, "Did anybody have sex with Lindsay Lohan?" to which Levine replied, "A lot of people probably did, I don't know."
Watch the video on RadarOnline.com
youtube
As we previously reported, Lohan's alleged 36 conquests included big names such as Levine, Franco, the late Heath Ledger, Zac Efron, Justin Timberlake, Colin Farrell, Joaquin Phoenix, Garrett Hedlund, 50 Shades of Grey star Jamie Dornan, Wilmer Valderrama and Lukas Haas.