LeAnn & Brandi Make Nice! Rimes and Glanville Drop The Drama For 5th Grade Graduation -- 'There Was So Much Love'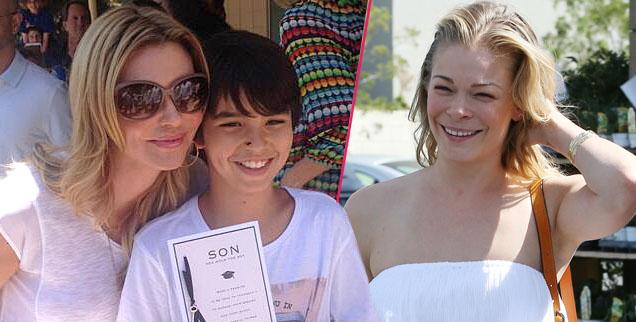 What a difference a week makes!
After RadarOnline.com exclusively reported that Brandi Glanville and LeAnn Rimes had yet another drama-infused get together at Glanville's son's birthday party, it seems that the two women have kissed and made up.
The Real Housewives of Beverly Hills star and Eddie Cibrian's son, Jake, graduated the fifth grade Tuesday, and both his mom and the country singer took to Twitter to express their happiness and gratitude.
Article continues below advertisement
Rimes went so far as to say Jake "had lots of love in one room," which is a far cry from last week's tense affair for Mason's birthday. Glanville allegedly played Carrie Underwood's "Before He Cheats," throwing a not-so-subtle jab at her ex-husband's new wife.
Rimes reportedly tried to be friendly to Glanville by talking to her and her friends, but she allegedly wasn't having any of it.
"LeAnn went out of her way to say hello and goodbye to Brandi, and even sat right across from her and tried to talk to her," said a source. "But she refused to look at LeAnn in the eye and only gave half a** responses."