Exclusive
'Homeless' Housewife: No One Will Rent To Brandi Glanville Because Of The Reputation That Comes With Her Shooting The Show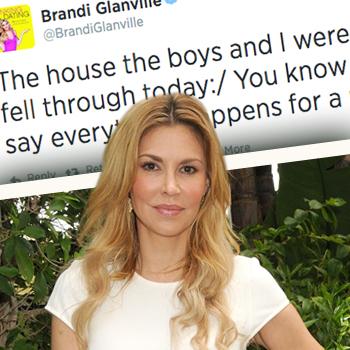 After being forced out of her ritzy Beverly Hills rental home because of issues with her landlord more than a month ago, Brandi Glanville remains 'homeless' because no one wants to rent to the Real Housewives of Beverly Hills star, RadarOnline.com is exclusively reporting.
Glanville, 41, and her boys with ex-hubby Eddie Cibrian, Mason, 11, and Jake, 7, have been living in a furnished place where families live between moves until she can find something more permanent, but things aren't looking hopeful.
Article continues below advertisement
"Brandi has been desperately searching for a house she can rent in a comfortable neighborhood, but it's not going well," an insider told RadarOnline.com.
"She finds a place she likes, but then the landlord or renter realizes who she is and doesn't want to risk the drama that comes along with her shooting the Real Housewives of Beverly Hills."
Glanville expressed her frustration at finding a new place to live last week on Twitter, writing that a deal on a house had just fallen through.
"There were rumors that she didn't want to do it anymore, or that certain cast members were vying to get her off the show, but she really loves doing it and will return."
According to the insider, Glanville is willing to pay extra for someone who will just rent to her.
"She'll do anything at this point," she source added.
"She just needs a decent home!"