Exclusive
The Gloves Are Off! 'RHOBH' Star Brandi Glanville 'At War With' Vivica Fox On 'Celebrity Apprentice'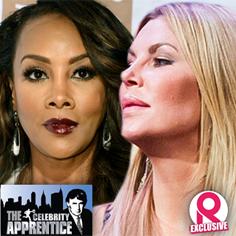 Despite being friendly acquaintances before filming began for Donald Trump's Celebrity Apprentice, Real Housewives of Beverly Hills star Brandi Glanville and actress Vivica Fox are at war with each other, and the feud will definitely entertain viewers of the hit NBC show, RadarOnline.com is exclusively reporting.
Our source tells us, "Brandi and Vivica have known each other socially in Los Angeles for years, and always got along. They certainly weren't best friends, but had mutual respect for each other. Fast forward to both ladies filming for Celebrity Apprentice, and the gloves are off. There have been allegations of cheating and lying between the two, and they have had epic screaming matches.
Article continues below advertisement
The reality starlet had been turning to booze and Xanax to handle the stress of the show.
"Brandi got reprimanded for her behavior," a source previously told RadarOnline.com about her latest antics in New York City.
"She was sent to hotel to get herself together."
Also battling with Kate Gosselin in the Big Apple is only part of the problems that are plaguing Glanville as she tries to beat her co-stars in made-for-TV challenges.
Article continues below advertisement
"Brandi told Donald she was crumbling under the pressure," the source told RadarOnline.com.
Scorned Exes Tell All: Inside Hollywood's Ugliest Splits
Known for her boozy ways on RHOBH, and even having been approached by the ladies on that show to go to rehab to treat her problems, the source said Glanville is not faring well on set.
However, Brandi has "definitely rallied and has gotten the drinking under control. She really wants to win Celebrity Apprentice and will do whatever it takes to do so," the insider added.
"If that includes burning Vivica Fox forever, she doesn't care."