Lady Gaga Drags Usher Into Her Legal Battle Over Hit Song 'Judas'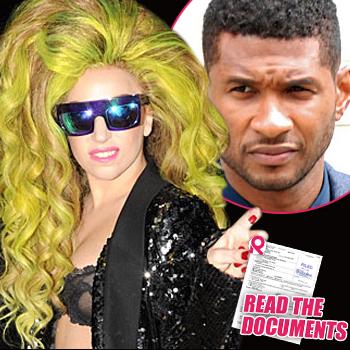 Lady Gaga seems to be finding herself in the midst of all sorts of legal trouble, but she's not going down alone.
RadarOnline.com can exclusively report that the "Judas" singer officially has dragged Usher Raymond IV ("Usher") into her copyright infringement lawsuit, allegedly hoping that his previous victorious legal battle will be her saving grace.
Chicago-based singer Rebecca Francescatti sued Lady Gaga in 2011, claiming she ripped off her song "Juda."
Article continues below advertisement
But 28-year-old Stefani Joanne Angelina Germanotta, 28, a.k.a. Lady Gaga, filed documents this week that call upon Usher's previous lawsuit in which he was sued for copyright infringement for his hit song, "Caught Up."
The documents lay out the argument that "if the title lyrics of the two songs at issue are the same, and even if those lyrics are repeated in a chorus, they are not eligible for copyright protection if common phrases or words."
The documents also argue that there is very little lyrical similarity between the two songs.
"The only lyrical similarity that Francescatti alleges in this case is in the title character – the repeating of "Juda" in her song and "Judas" in Lady Gaga's song (the expression of which in each work is entirely different, in all events)…As in Edwards, which found the lyrics "caught up" to be unoriginal, the lyric "Judas," whether as a song title or lyric, is too common to be protectable."
Lady Gaga is asking the court dismiss the lawsuit based on the order issued by the judge who presided over Usher's legal battle.
No decision has been made yet.