Usher Wins In Court: Judge Denies Tameka's Emergency Custody Request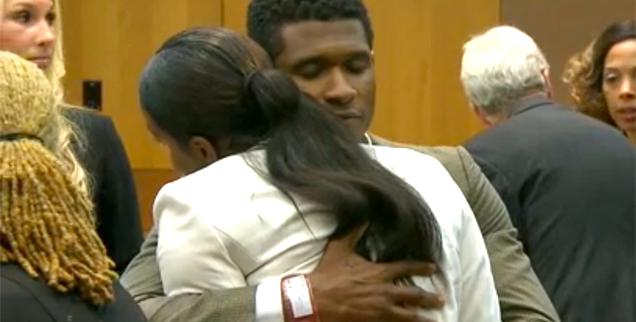 UPDATE: The judge has denied Tameka's emergency request for temporary custody of the children and dismissed her motion.
"What happened here was an awful accident. I don't know, and based on the evidence I heard I am not certain that any single person who had been by that pool side that one person could have done better than Miss Oden. Miss Oden did impress me as a capable person."
He continued, telling Tameka: "You're standards for a caregiver are very high."
Article continues below advertisement
The judge then said "I am denying, dismissing the motion."
He then told Usher: I will say Mr. Raymond, in the future you would be well advised to keep your former spouse informed about your whereabouts and who is taking care of the kids. That will be a feature perhaps in the case as this moves forward or the companion case."
The judge stopped Tameka's attorney from questioning Usher about their communication regarding the children's schedule.
"Emergency means life or death and means that these kids are in danger," he said, telling the attorney that her line of questioning of Usher was not relevant to the emergency motion filed by Tameka.
There are no more witnesses and the attorneys are making closing statements.
Tameka's attorney argued "The reason why this is an emergency is because there was a water emergency."
Usher continued to testify about the communication he has with Tameka regarding the schedule of the children.
Article continues below advertisement
"I don't update her on my schedule but I update her on the children's schedule on a weekly basis. On Sunday I send it to her. Any information that is pertinent to the schedule."
Usher also told her that he was concerned about their swimming skills.
"I made it known to her that it was important that they work on their swimming."
Tameka's attorney continued to question Usher about the day of the pool accident, and he said he did not call the child's mother before he went to the hospital.
"It did not cross my mind to call her as I did not know what I would tell her."
Usher said he waited until he got to the hospital and spoke with the doctor's about his son's situation.
Tameka's attorney asked him what safety training he has for the children around the pool.
"When their names are called they stop, look and listen," he said. "They are four and five and children can be children. That is part of rearing kids." He also said that he teaches them "Not to run around the pool is one. Never to jump into the pool unless there is an adult there as there is always an adult there."
Article continues below advertisement
Usher Raymond is on the stand. Tameka's attorney began questioning him, when he called the boy's mother about the incident.
"I'm not sure that is the exact time that I called. The first thing to do was to respond to the emergency. I knew I was only 1 exit from my home. I went straight there to assess what really happened. When I arrived my son was hysterical in the back of an ambulance. I knew there had been an incident in the pool."
Usher said he arrived home and saw Usher V in the back of the ambulance o . "He was hysterical he didn't want to go to the hospital," he said about his son. "He was very irate. I did my best to calm him down."
"I didn't suspect he was in grave danger because he was speaking," he said about his child. Usher said he called Tameka from the hospital.
"You told her he had a cut on his arm," Tameka's attorney stated.
Article continues below advertisement
"Not exactly what I said. I said I wanted her to understand that I did not have full information what took place as I still didn't understand the severity of the situation. I wanted her to remain calm."
Usher's attorney began a tense series of questions with Tameka.
"You don't have any evidence that she (Aunt Rena) wasn't' sitting right by the pool do you?" he asked. "I do not," she responded.
"The good news is your son was rescued."
"The best news," Tameka responded.
Usher's attorney asked "Will you agree this pool accident is the only new thing in this situation?" and Tameka responded: "My son's near death experience? Yes."
Usher's attorney questioned Aunt Rena asking "you were watching the boys closely weren't you?"
She replied "Yes I do as always. All the time."
Tameka returned to the stand and her attorney asked her "Since August 5 at 4 o'clock how many nights has Mr. Raymond spent at the hospital?"
Article continues below advertisement
She said "I haven't seen him. He's never stayed in the room."
Aunt Rena is on the stand and Tameka's attorney questioned if she was supervising both children at the time of the accident.
"No one was at the pool," she said when she went inside the home to ask for help after Usher was stuck in the drain.
"Where was Naviyd at that time?" the attorney asked and then Aunt Rena said "The house keeper had Naviyd. She had him as far as I know."
The attorney asked if she saw the boy with the housekeeper in the basement when they were asking the men for help and Aunt Rena said "I didn't see him" and "I'm not sure," when asked if she knew exactly where the little boy was.
Aunt Rena said she does not live with Usher or the boys in the Atlanta home.
Tameka became very emotional after telling the story of her son Naviyd jumping into the pool to help his brother.
Article continues below advertisement
"This is not against Aunt Rena," she said. "I'm thankful my child is alive. This was a near death experience. This was not a "so–called" accident."
Tameka began crying saying: I don't know if my son is going to have a brain defect. I don't know if my son is going to have a heart defect."
She told the judge over and over "this is ridiculous" and said "I 've been there since 3:50 the day of the accident I left this morning at 9:45. I have not left the hospital ever!"
Tameka left the stand sobbing.
Tameka said that there was an emergency with her son Thursday night. "At about 2 in the morning his heart rate dropped to a dangerous low. It got to like in the 50s."
She said she sent Mr. Raymond an email because "He was not at the hospital," and "He didn't answer he didn't come to the hospital."
Tameka said she wanted to tell Usher they were doing an "emergency EKG his heart rate had really slowed. They deemed it an emergency. He did not respond."
Article continues below advertisement
She said she left the hospital at 9:45 am and that she has been at the hospital non-stop since the accident.
The 9-1-1 call is now being played in court.
Tameka said Naviyd and Usher are "very rambunctious, they're very active," and that Aunt Rena was not a capable care giver.
Her lawyer asked her if Aunt Rena taking care of the children "Presents a present danger to their safety," and she responded "absolutely."
She said her children, "never want to be there," referring to their father's home with Aunt Rena and "they always feel like she's too strict, too stern, spanks them and yells at them all the time."
Tameka Raymond is on the stand and she spoke about Usher V's condition. "My son is alive. He's alive. He's doing well. There are several issues that I'm concerned about that don't seem quite normal. He's at 70 percent and that he's well because he is alive."
Article continues below advertisement
She then said "My son basically had died on the scene from what I was told by the doctor," and Usher's attorney objected as hearsay and she said "Whoa it was not hearsay because I was at the hospital with my son," and the judge instructed her to not say what other people have told her.
Usher's attorney argued that during the 11-day custody battle in 2012 Tameka's "own nannies and her own sister, her friend of 20 years had damning things to say about her."
He continued and said "Witness after witness revealed Miss Raymond's lack of interest in parenting."
Tameka Raymond's attorney argued in an opening statement that "There were not licensed care givers," in the home the day of the pool accident and the children were "gravely in danger" and requested temporary custody of the children for the upcoming year.
Usher's attorney argued that "the children since that trial are not only better off with Mr. Raymond, they are thriving." He said that Tameka was trying to "gain publicity and to once more seek a change in custody. "
Article continues below advertisement
The judge asked what the condition of Usher V is and his attorney said "Basically fine. They expect to discharge him on Sunday."
Usher and Tameka Raymond are facing off in an Atlanta court on Friday morning fighting over custody of their two children and RadarOnline.com has a live stream of the proceedings.
The rap star has custody of their two sons but following an accident in the pool where Usher Raymond V almost drowned Tameka filed an emergency request for custody.
Both parents are in the courtroom, Tameka is wearing a white suit and Usher is wearing a tan suit.
The 5-year-old was swimming in the pool on August 5 with his aunt when a toy got stuck in the drain and the boy dove down to get it — getting his hand stuck in the drain.
After attempts by his aunt to rescue him, a maid then jumped in and was also unable to get his hand out, so two men working on the family house eventually jumped in and were able to free him.
Tameka is claiming that Usher is not a fit parent, is absent 85% of the time and that she should have custody of their two children.