Exclusive
Lady Gaga To Ex: Keep Your Pokerface… Or I'll Sue! Singer Warns Former Flame Not To Spill Her Secrets In Court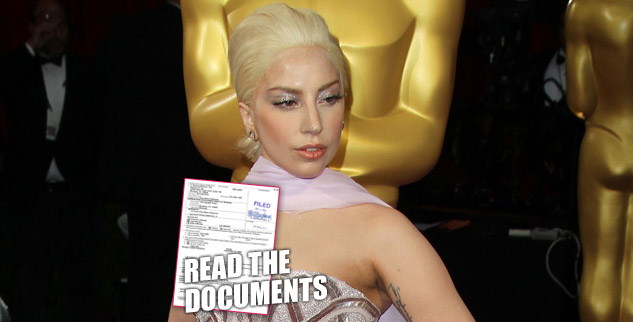 Do what you want with her body, but don't bare her secrets! RadarOnline.com has learned that Lady Gaga will stop at nothing to keep the details of her life pre-fame a secret -- including taking legal action. Her ex, Rob Fusari recently begged a judge to seal documents regarding their relationship that he filed in a new lawsuit because if Gaga gets wind of the info going public, she'll sue him!
Fusari, who dated Gaga while helping her mold her career in her early days, is currently embroiled in a lawsuit with a former business partner -- and Gaga BFF -- Wendy Starland. The judge in that case ordered him to file documents during discovery, but Fusari then filed a separate motion asking the judge to seal the items, so that Gaga will not make him pay "heavy monetary penalties" for making them public.
Article continues below advertisement
Gaga, born Stefani Germanotta, and Fusari have been feuding for a while. He sued her back in 2010 for $30.5 million over claims she'd cut him out of the proceeds from her career after he discovered her. The lawsuit was dropped when the two reached a confidential settlement.
Under that settlement, Fusari's new court documents state, he and Gaga "specifically bargained for a strict non-disparagement clause. If made public, the new documents may constitute a breach thereof."
Furthermore, the documents reveal, "This issue has already been raised in a confidential proceeding between Fusari and Germanotta. … Should matters sought to be sealed in the case be made public, it is possible that Germanotta will raise the issue in another confidential proceeding and subject Fusari to heavy monetary penalties."
But she's not just a bitter ex. The documents state that "This information may subject Germanotta to potential personal and professional harm" if released.
He's not the only one who could reveal her secrets, however. As RadarOnline.com has reported, financial information related to her career could come to light soon in the custody case of an Island Def Jam executive.
The judge has yet to rule on whether the documents will see the light of day, but stay tuned to RadarOnline.com for the latest on the case!