MILF Off! 'Momager' Kris Jenner Goes For The Gusto In Sexy Competition With Daughter Kim Kardashian On 'KUWTK' Season Premiere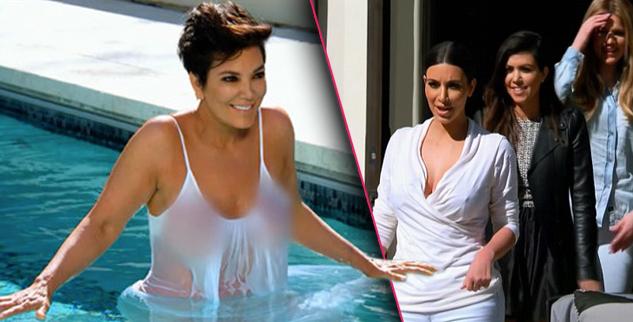 Kim Kardashian married Kanye West just two weeks ago, but they weren't the big stars on Sunday night's summer premiere of season nine's Keeping Up with the Kardashians.
Instead, "Momager" Kris Jenner's headlights stole the spotlight — as E! had to digitize out the 58-year-old's nipples in braless see-through outfits when she did a sexy personal photo shoot!
The Kardashian family matriarch, who split from husband Bruce Jenner last year, was criticized the entire episode, by her daughters, for not acting her age.
Article continues below advertisement
And Khloe Kardashian said that Kris and Kim, who gave birth to her baby daughter North with rapper West last summer, were having "a MILF off!" competition -- as in "Mom I'd like to f*ck."
Later, Kim told her friend Larsa Pippen, wife of basketball player Scottie, that her mom was "so embarrassing" and copied everything she did.
But Larsa allowed Kris to come along with them to a pole dancing class and as RadarOnline.com has previously reported, the momager gave it her all!
But that wasn't all as Kris was still determined to "show my girls you can be vibrant and sexy at any age.
"When you're in your fifties, you don't curl up and disappear."
So Kris hired a photographer to take pictures of her at her home in two outfits that showed her nipples -- a netted black dress and a strappy white sundress!
Both left little to the imagination because Kris wasn't wearing a bra, but the network blurred out her nipples as she threw her arms up in the black dress and got wet and cavorted in the pool in the white one.
Article continues below advertisement
As Radar has reported, the reality TV mom recently justified her daughter Kendall's topless spread in Interview magazine, saying 18-year-old has the perfect body.
And Kris showed she's the mother of all exhibitionists! When her daughters arrived at the house during the inappropriate photo shoot, Kourtney Kardashian asked, "Why are your t*ts out? That is so embarrassing."
Then Khloe weighed in, saying, "You're obviously not asking someone to say, your eyes look good. You are saying …'Oh, is it hot or cold today?'"
Kourtney snapped, "That's full-on porn!"
As Kris got out of the pool to reveal more of her lady parts, Khloe said, "Do you even have underwear on? You are so gross! Vagina out, a** out, t*ts out."
Kris retorted, "I'll just wait and see what you guys look like when you're in your 50s.
"I'm done with you guys!" she said, and stalked away.
But Kim felt bad and went to talk to Kris.
"Sometimes you guys don't make me feel really great and it hurts my feelings," the matriarch said.
Article continues below advertisement
Kris said, "I would support anything YOU guys do .... I still feel good about myself."
Kim told the cameras she was happy her mom was confident and fabulous and told her proudly, "Any MILFness I have, I've gotten from you."
Also on Sunday's KUWTK, Khloe was still dealing with the fallout from her split from husband Lamar Odom, and on the show scenes, her divorce was not yet final.
She was having difficulty letting go of the house she shared with the basketball star.
"I have ten days 'til I have to be out," Khloe said, but then shouted, "I don't wanna move!"
Sister Kourtney commented to the cameras that she needed to move on "and have a happier place with no bad memories."
Kris, stepdad Bruce, and Kim soon came over to help Khloe pack.
They all started boxing things up, but Khloe told Kris it wasn't how she wanted it done!
When Khloe told Kim to stop messing with Odom's things, Kim said, "Lamar's not coming back to get them, I hate to break it to you."
Article continues below advertisement
Khloe sighed to E!'s cameras that her divorce was tough: "Everyone is trying…but I can't put everything behind me. It's my life, my drama, and that's just the way it is."
But there's a happier drama for Kourtney and her baby daddy Scott Disick, as on a teaser for the rest of the season, fans saw the 35-year-old mother-of-two confirm her third pregnancy.
While RadarOnline.com has already reported that news, Sunday night's preview clip showed Kourtney telling Scott, "I'm pregnant. It was not a plan."
The unmarried couple is already raising son Mason, 4, and daughter Penelope, 23 months.
On Sunday's episode, however, Kourtney and Disick were shown having problems after both his parents had died and he was looking for more support from her.
Disick bought Kourtney a new car, but she had no interest and he went to Miraval Spa on his own for some R & R.
But it was Khloe who called Disick at the spa and he told her, "I've hit rock bottom," in dealing with his folks' passing.
Article continues below advertisement
Khloe later accused her sister of being emotionless and told her of Disick, "He's super-depressed."
"It makes me feel helpless because there's not much I can do," Kourtney replied.
Still, she decided to have Tejpal, a life coach, visit her and the shaman advised Kourtney to say "I feel your pain" to Disick.
Kourtney suddenly was teary-eyed and said because of her busy life and being a mom, "I feel I'm literally on the verge or a nervous breakdown because I'm so stressed out. I'm being pulled in a million different directions."
The therapist told the oldest Kardashian child that her she should rely more on other people, reserve some quiet time, and let her lighter side come out.
Kourtney told Disick she'd like to give him more back—but also needed time to relax.
"I definitely need that," he said, adding that he loved her.
Watch the video on RadarOnline.com: