Is Kris In Denial? Jenner Insists Daughter Khloe Kardashian And Bad Boy French Montana Are Just Friends!​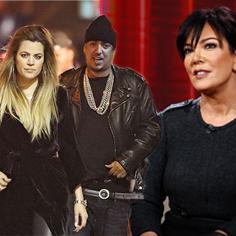 Khloe Kardashian and French Montana have been inseparable for months, partying in New York City, relaxing at his New Jersey mansion, and shooting his new music video in Miami.
But momager Kris Jenner— who reportedly thinks the bad boy rapper, 29, is just using her reality star daughter, 29, for fame— just doesn't seem to be on board with the budding relationship.
During an interview on Sirius XM's "Opie and Anthony" channel on Friday with co-hosts Sam Roberts and DJ Whoo Kid, the headstrong family matriarch, 58, said the loved-up twosome "are friends. Just homies."
Article continues below advertisement
However, the reality TV mom did say the hip-hop star joined a family dinner at the Jenner abode in Calabasas, California.
When DJ Whoo Kid mentioned Montana told him they noshed on spaghetti and ketchup, Jenner defended her skills in the kitchen.
"There was no ketchup involved, but I do make a great pasta!" she laughed, adding that Montana brought "a lot of bling" to the home.
As RadarOnline.com previously reported, the Kardashian klan is growing frustrated with Khloe's recent diva behavior— and blame her bad boy beau for her difficult attitude.
Do you think Kris is in denial about her daughter's relationship? Sound off in the comments and watch the entire interview below.
youtube