Exclusive
Good Girl Gone Bad! Khloe Kardashian 'Acting Like A Real Diva' & 'Showing Up Late' While Filming New Reality Show, Says Source — Why Her Family Blames New Boyfriend French Montana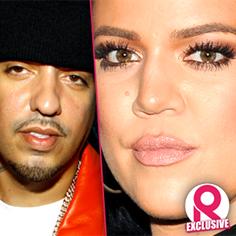 What's gotten into Khloe Kardashian? RadarOnline.com has exclusively learned that the typically professional and punctual reality TV star has been stirring up drama with "diva" behavior on the set of Kourtney and Khloe Take The Hamptons, and according to sources, Khloe's family blames her bad boy rapper beau, French Montana, for the sudden change.
Ever since filming began, "Khloe has been showing up late for call times, and has offered no explanation for the delay," an insider told RadarOnline.com. "The crew has been left in the lurch because they can't get any work done until Khloe decides to show up. This is very atypical of Khloe, who previously would often turn up early for shooting!"
Article continues below advertisement
The source continued, "Khloe has been complaining about being in the Hamptons, and doesn't understand why the locals are so angry about their arrival in town. She is acting like a real diva, and says the Hamtpons should be lucky to have her in town, as it's a boost to the local economy."
Now, the source said, her family is blaming her new boyfriend Montana for the change in her attitude.
Khloe and Montana, 29, began dating this spring after her December split from husband Lamar Odom, and he's yet to truly win over her family.
Newlywed sister Kim and stepfather Bruce Jenner think Montana "is using Khloe for fame," the source said.
But meanwhile, they're going strong. The reality star, 29 recently supported her hip-hop boyfriend during his 30-minute set at La Marina bar and lounge in New York City's Inwood.
"Khloe and French arrived together on a yacht around 9:30 PM," an insider tells RadarOnline.com of the waterside hot spot. "They were holding hands and looked happy together."
But when her new man is not around, it's an entirely different story. As RadarOnline.com has reported, Khloe has been complaining that she has been stressed out from filming and has been getting a massage everyday at her Hamptons rental, with the E! network paying the tab.