Exclusive
Pampering On The House! E! Paying For Khloé & Kourtney Kardashian's Beauty Treatments In The Hamptons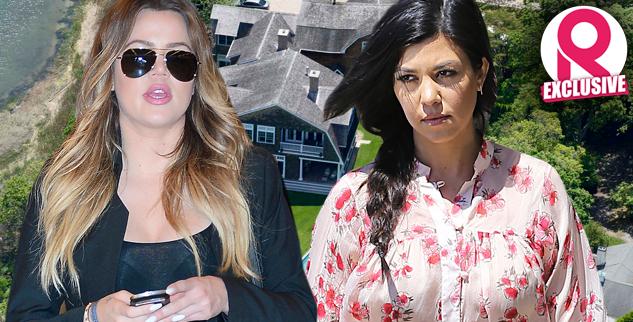 Khloé and Kourtney Kardashian have a glam squad on call 24/7 while shooting their reality show in the Hamptons, and their bosses at the E! network are picking up the very expensive tab, RadarOnline.com is exclusively reporting.
Ryan Seacrest Productions formally hired, "a masseuse, nail technician, and esthetician for Khloé and Kourtney while they are filming in the Hamptons," sources tell Radar.
"Momager Kris Jenner demanded her daughters have a beauty team at their beck and call at all hours, because Khloé and Kourtney uprooted their lives from Los Angeles to shoot the show," a source told RadarOnline.com. "The girls don't want to go out in public every time they need a manicure or pedicure.
Article continues below advertisement
"Kourtney's baby daddy, Scott Disick, is also allowed to utilize the professional services."
The bill is being paid by Ryan Seacrest Productions and E!. Furthermore, a source said the masseuse, who is female, has been making house calls to the nearby house that the crew rented in the Hamptons. The crew house isn't as swanky as Khloé and Kourtney's but it's very nice.
The source also revealed that "viewers definitely won't be seeing the various beauty services the girls are getting on the show.
"It just doesn't seem appropriate to show. Khloé is always complaining that she is so stressed out from all of the work, but she gets at least one massage a day."
Kourtney will definitely be relying on the masseuse this week, as her bad boy baby daddy was partying all weekend in Southampton.
The same day Kardashian, 35, attended a child-friendly party for niece North West's first birthday in L.A., Disick — who actually turned 31 on May 26 — pulled up to the trendy Hamptons club in his Bentley with an entourage in tow after midnight.
Article continues below advertisement
"He started smoking cigarettes and drinking beer," Paul Micheli of DJ Prep exclusively tells RadarOnline.com. "He seemed pretty wasted."
At around 1:15 am, Micheli adds, the self-proclaimed "Lord Disick" was presented with a crown-shaped cake as 2 Chainz' "Birthday Song" blared.
On June 9, Disick stormed out of the couple's nearly $14 million Hamptons mansion, and checked into a nearby hotel after a blowout with his girlfriend of seven years.
However, our source adds, "It's actually Scott that gets the most massages and manicures. He is always getting pampered, and is always extremely rude to the glam squad. His ego is just out of control.
"If Kris or Kim come to visit, the glam squad is also at their disposal as well. It's absolutely ridiculous the amount of money that is being spent on pampering for this family, especially as ratings for Keeping Up With The Kardashians are tanking."