She Kissed A Girl & She Liked It! Watch Kourtney Kardashian's Makeout Session With Sexy 'Orange Is The New Black' Star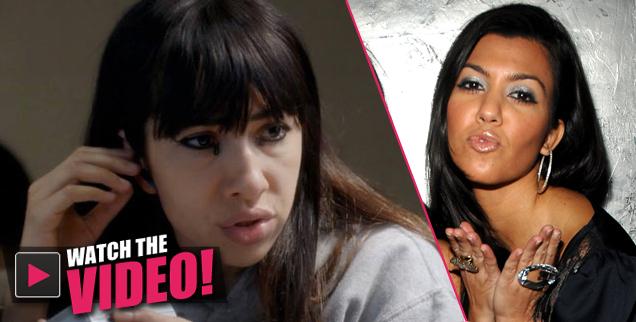 Article continues below advertisement
Kardashian said the sexy Latina was "carefree and fun . . . she kind of like, gets you, and like, has this spell, almost."
During a night out at a lesbian club, they even locked lips in full view of other partiers.
Kardashian later regretted the move, saying, "I'm so embarrassed. I can never talk to this girl again."
"Jackie is calling me non-stop and I'm so embarrassed I made out with her," she said . . . "I did not mean to lead her on."
Kardashian was on a break from future baby daddy Scott Disick at the time, but would announce her pregnancy with son Mason not long after.
As for Cruz, life became art in one episode of OITNB this season, when her character hooked up with another female roommate while drunk on hooch, only to decide they were better off as buddies.
WATCH the throwback video here:
hulu id=fw35jko0rxrjdu9u9h1xnw width=812