Another Day, Another Diatribe! Kanye West Slams Obama — 'You Can't Effect Change From Inside The White House' — & Warns Haters, 'You Do Not Want To Go Against' My 'Extreme Genius'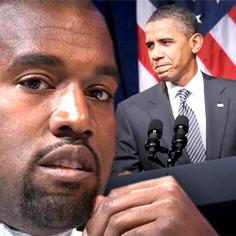 As long as people keep putting microphones in front of Kanye West, it seems, he'll keep on putting his foot in his mouth! The outspoken rapper unleashed yet another diatribe during an interview on Power106 FM this morning, and only RadarOnline.com has all the details.
As usual, Kim Kardashian's husband bragged about his own "creativity and extreme genius," but said that people who slam him for comparing himself to Apple founder Steve Jobs and other innovators are simply misinterpreting his true meaning.
Article continues below advertisement
"Don't worry about how I'm saying what I'm saying," he insisted. "Look at what I'm saying and how I feel and how my intent is."
And he had a warning for those who continue to criticize his over-the-top rants.
"You do not want to go against the power," he said. "I'm working on one mission, and that's a mission from God."
"I'm gonna make it very clear exactly what I'm here to do," he continued. "I'm here to help. I'm going to apply all the blessings I've got."
Are you surprised by his rant or is it just more of the same? Let us know in the comments!