'Kanye Should Know Better!': Anti-Defamation League Blasts West's 'Anti-Semitic' Comments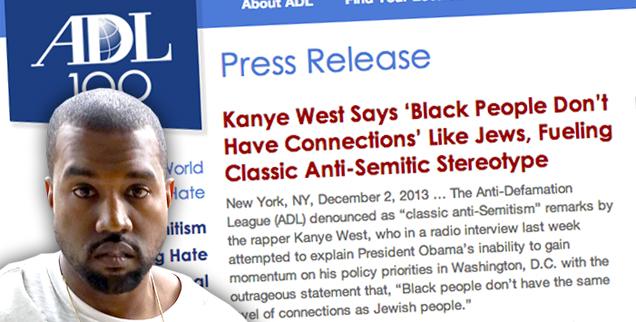 Another day, another head-scratching comment from Kanye West. After comparing himself to Steve Jobs, Kate Moss, Michelangelo and more, the outspoken rapper managed to slam both President Obama and the entire Jewish community during a recent radio appearance. Now, the Anti-Defamation League is striking back, accusing him of "anti-Semitism" and urging him to "take responsibility" for his actions.
West made the controversial comments during an appearance on Chicago's Power 105.1 late last month. "People want to say that Obama can't make these moves, or he's not executing," West said of the president's foreign policy record. "That's because he ain't got those connections. Black people don't have the same level of connections as Jewish people."
Article continues below advertisement
Days later, the Anti-Defamation League's National Director, Abraham H. Foxman released a statement slamming West for his big mouth.
"There it goes again," Foxman said. "The age-old canard that Jews are all-powerful and control the levers of power in the government."
Calling the remarks "classic anti-Semitism," Foxman continued, "As a celebrity with a wide following, Kanye West should know better. We hope that he will take responsibility for his words, understand why they are so offensive, and apologize to those he has offended."