Exclusive
Inside The Hough Family's Heartbreaking Divorce: Siblings Julianne And Derek Were Separated During 'Difficult' Time -- READ The Official Court Documents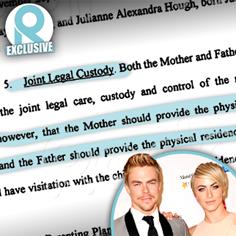 In their People cover story, super-close star siblings Derek and Julianne Hough open up about their parents' "difficult" divorce— and now RadarOnline.com can reveal exclusive details about the devastating split.
In Marriann and Bruce Hough's official divorce decree, written in March 1998, when Derek was 12 and Julianne was just 9 years old, the couple vowed they would remain dedicated to their four minor children. (Marabeth is now 34, and Katherine is 32. The siblings also share an older sister, Sharee.)
Article continues below advertisement
READ the Hough family's divorce decree
"The parties both have loving and valuable relationships with their children, and agree to work together to support those relationships," Utah court documents state. "Further, the parties agree to work together to provide for the physical care and financial and emotional support of the children."
However, according to documents, Derek, 29, and Julianne, 25, were promptly separated into different homes.
While both parents held joint legal care, "the Mother should provide the physical residency for Julianne and Katherine, and the Father should provide the physical residency for Derek and Marabeth," papers say.
Derek and Julianne were once again brought together the following year when their parents sent the budding ballroom dancers off from their native Utah to London dance school Italia Conti Academy of Theatre Arts.
Article continues below advertisement
Despite the reunion with her brother, Julianne says she still suffered: In a 2013 Cosmopolitan interview, the actress says she was mentally and physically abused by an unnamed person.
Before Derek and Julianne took off, their parents vowed they'd raise their brood in the Mormon faith.
"To facilitate their church involvement, the parties may share time with the children on Sundays," the documents state.
Bruce, a chairman of the Utah Republican Party, was ordered to give his unemployed ex-wife $1,030 in child support, and $4,386.16 in alimony per month.
While dividing up personal property, Bruce received the family's Eagle Talon car, while Marriann snagged the Plymouth Voyager.
"It was a very difficult time for our family," Bruce recently told People.