'I'm Good Right Now' – Jennifer Lopez Puts Down Rumors That She's Dating Someone New In Radio Interview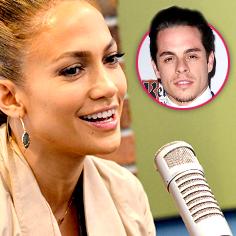 Rumors have been swirling that Jennifer Lopez has a new man, but the Selena actress put that rumor to bed when she was a guest on SiriusXM's Morning Mash Up.
When asked about her current relationship status, JLo said she has been more than happy doing the single lady thing as of late after ending things with Casper Smart.
"I'm good right now," the singer-actress said. "We just got out of a relationship. There needs to be time for reflection and alone time. That's where I'm at right now."
Article continues below advertisement
Now that she and Marc Anthony are divorced officially – a mere three years later – JLo has a lot on her plate with a new album, A.K.A., which features hot rappers such as T.I., French Montana and Iggy Azalea.
JLo revealed that the night before the album was going to be mastered, T.I. wasn't on the title track. At around 2 a.m, Lopez decided that the song was "missing something," and had her people called T.I.'s people – because apparently that's whom it was missing! When he entered the studio, he listened to it and recorded his portion that night.
"He showed up when I needed him," the "Jenny from the Block" crooner recalled.
Sounds like she has a great support system! Listen to her interview below!