Exclusive
The Battle For Max & Emme: Inside J. Lo & Marc Anthony's Strict Custody Schedule For Their Twins READ The Court Docs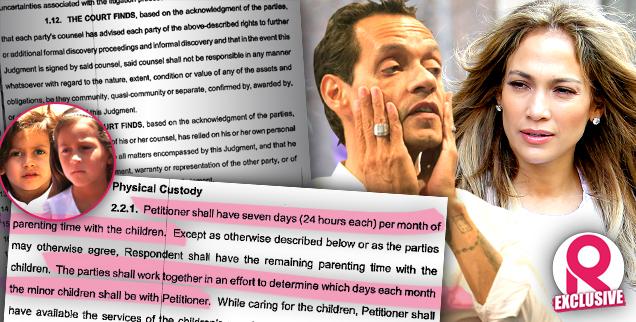 As of June 16, Jennifer Lopez is officially a single mom. Just days after the singer split from boy toy Casper Smart, her divorce from Marc Anthony was finalized in an L.A. Court — more than two years after he filed. What took so long? According to the divorce documents obtained by RadarOnline.com, the couple spent serious time crafting an incredibly detailed child custody agreement for their twins, Max and Emme, 6, and only Radar has all the info!
Article continues below advertisement
According to the court documents, Lopez and Anthony were "awarded joint legal custody" and therefore will share the responsibility to make any major decisions about their kids, including "the decision to allow a child to enter the armed forces, the decision to allow a child to marry before the legal age … the decision to allow a child to obtain a driver's license," and even the decision to allow their children to work! And in the event they don't agree, they must contact a mediator, or file a motion with the court.
Article continues below advertisement
And as for the divorce, both Lopez and Anthony must keep their lips sealed, since the document stipulates that "neither party shall discuss with the Minor Children" the divorce "or any court case involving the parties," or allow them access to court papers related to the divorce.
In addition, "neither party shall publish or cause to be published any story, article, column, comment or book (fiction or non-fiction) describing the other party, the marriage, the dissolution of marriage proceeding or the relationship of the parties." So don't look for a breakup album from either any time soon.
Do you think the agreement seems fair? Let us know in the comments!