PHOTO: Jennifer Lopez Brings Twins Max & Emme To Idol Set!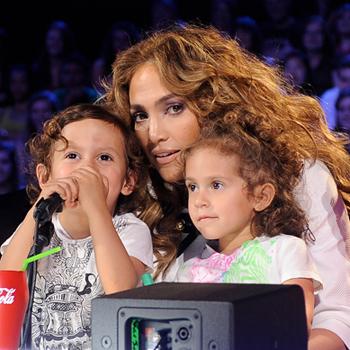 Maybe she couldn't find a babysitter -- or maybe American Idol judge/hot mama Jennifer Lopez just wanted to show off her adorable 3-year-old twins Max and Emme. In any event, we're glad she did!
The Jenny From The Block singer brought little Max and Emme to the set of American Idol on Wednesday, and RadarOnline.com has the just-released pic.
"It's take your twins to work day at IDOL," J.Lo tweeted Thursday as she posted the photo on her Twitter page.
Article continues below advertisement
Wonder if someday (maybe in 13-years or so... ) we'll see both of them performing on the Idol stage! After all, between J.Lo and daddy Marc Anthony, music is in their genes!
Meanwhile, in Friday's USA Today, Lopez opens up with her reinvigorated career and being a mom.
"Those babies for me are the most important thing. Their happiness, their health. That's the one thing I lose sleep over, because I am working a lot more now," she says. "It's a balancing act, a juggling act, just like for any working mom."
The singer/actress says she's delighted to be a judge on American Idol, especially to work along side fellow judges Steven Tyler, Randy Jackson and host Ryan Seacrest. She views them as the brothers she didn't have growing up. "It's a lot of fun. Taking a journey with the contestants has also been exhilarating," she says. "I know exactly what they're feeling and their hopes and their dreams and what they want to do in that moment."
Article continues below advertisement
Lopez, who has a reputation for being a diva, says she was at first surprised that people now view her differently after watching her on Idol.
"I always thought people were getting that over the years, but what they were really getting was the entertainer side of me, the performer side of me," she says. Now, "they're actually getting to see the human side of me, because there is no script and there is nothing but me and how I feel and what I think and my emotions, whether that's laughing at the top of my lungs or shedding a tear over a mom who is singing for her child."
She also disagrees with critics who say the panel isn't tough enough on the young singers.
"We do give constructive criticism. People are used to hearing it in a different way, but if they are really listening to the critiques, they'll hear us correcting them," she says. "We just don't feel we need to deliver it in a negative fashion where they're not going to really hear it."
Besides Idol, Lopez is currently enjoying great success with her new dance song, On The Floor, the first single off her new album, Love?, due out April 19.
Article continues below advertisement
"I'm proud of the things I have done over the years. Whether they've had the biggest commercial success or not, I still feel like I've been on a journey and I've been growing and evolving, and that's exciting," she says.
The success of the single is just "icing on the cake. Big icing. I love icing."
Adding to that icing, American Idol is enjoying strong ratings this season. The show is averaging 25.1 million viewers during its tenth season -- a much better number than what people expected with the departure of Idol's powerhouse judge Simon Cowell and one-season judge Ellen DeGeneres, who replaced fan favorite Paula Abdul.