Exclusive
Three Lies? Three Truths? Pregnant 'Teen Mom 2' Star Jenelle Evans Rips Rumors About Water Birth, Engagement & Quitting School For Show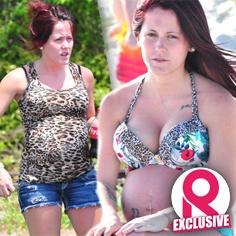 Article continues below advertisement
"Why would anybody think that she would keep that a secret? She loves Nathan and when she gets engaged she's going to want the world to know."
Just days away from her due date for her second baby, the source tells Radar that she is planning to give birth in the hospital.
"Jenelle cracked up when she heard people were saying she's going to give birth at home and have a water birth. No way is that going to happen. Jenelle is going to the hospital to have baby Kaiser and she is DEFINITELY taking an epidural."
But is there any truth to the claims that Evans is ditching another season of Teen Mom 2 for her schooling?
"School is one of the most important things to Jenelle," the source told Radar.
"Her plan is to graduate with a degree. But she's also going to do Teen Mom 2's next season too. Jenelle has a lot going on in her life right now and she isn't going to turn away from that show."
Do you believe Evans is telling the truth? Sound off in comments below.