Exclusive
Dina Lohan Escapes DWI Sentencing Without Jail Time — 'It's Over And I'm Glad It's Behind Me,' She Tells Radar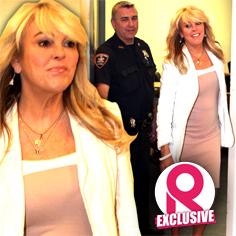 Dina Lohan was sentenced on Tuesday morning in her Long Island DWI case and although she took a verbal beating from the judge, she managed to skate by without having to serve any jail time.
The 51-year-old mother of four was sentenced by Judge Andrew Engel to 100 hours of community service and her driver's license was revoked for a year — and when she does get her license back, an interlock device will be installed on her car for another year to test her blood alcohol level before taking the wheel.
Article continues below advertisement
Lindsay's mom exclusively tells RadarOnline.com, "It's over and I'm glad it's behind me."
Dina was also slapped with a $3,000 fine and must participate in a drunk-driving program and victims impact panel.
"In spite of the fact that the District Court of Nassau County dispenses the sternest DWI Sentences in America, which traditionally provides for a period of incarceration and three years of Probation, Dina Lohan's Sentence did not provide for any period of incarceration or Probation, in light of Dina Lohan's exemplary record with no prior arrest history and in deference to the Nassau County Screening Evaluation of Ms. Lohan which concluded that she has no alcohol or substance abuse issues," Dina's attorney, Mark Jay Heller told Radar in a statement.
"Clearly, it was recognized that Dina Lohan has been a life-long resident of Nassau County, a good and loving Parent to four children and the arrest was borne out of an isolated act of indiscretion on the occasion of her 50th Birthday. Dina Lohan is happy to put this unfortunate event behind her."
As Radar previously reported, Dina was arrested on Sept. 12, 2013, when she was stopped for driving her BMW 77 mph in a 55 mph zone while intoxicated. Cops said at the time that her blood alcohol level was .20, more than twice the legal limit of .08.