Dina Lohan Pleads Guilty to Aggravated DWI & Speeding – Could Lose Her License!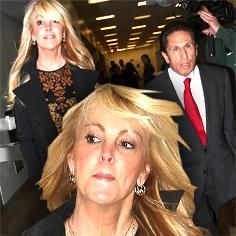 Dina Lohan better hire a good driver. Lindsay Lohan's notorious mother pleaded guilty to aggravated driving while intoxicated and speeding during a court appearance on Tuesday in a Long Island, and as part of the plea, she is expected to lose her license for the next year.
Lohan's final sentencing will be on June 3, but according to reports, she will escape jail time as part of the plea deal. In exchange, she will reportedly be ordered to pay $2,600 in fines, complete 100 hours of community service, attend a drunk driving program, and will also lose her license for a year. After that, she is expected to have an ignition interlock placed on her car to prevent future drinking and driving.
Article continues below advertisement