Exclusive
Lindsay Lohan & Siblings Begging Mom Dina To Go To Rehab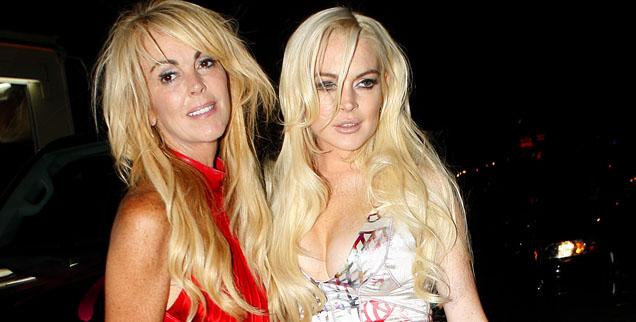 Lindsay Lohan's successful rehab stint has been much heralded but as she gets back to work and fights to beat her addictions RadarOnline.com has exclusively learned that she has been begging her own mother to get treatment for her addictions as well.
"Lindsay has been worried sick about Dina lately," a source close to the troubled actress told RadarOnline.com.
"She knows Dina has been out drinking and she sees how much her own treatment helped her and so she has been begging her mother to go and get help."
Article continues below advertisement
Dina was spotted recently at Russell Simmons' Art for Life benefit in Bridgehampton, NY where In Touch magazine reported she was "drinking wine the entire evening" and an eyewitness told RadarOnline.com she was at a Long Island restaurant Tuesday night where she was spotted drinking also.
"Lindsay has been trying to get Dina to see that she has a problem too and she needs to get help, but Dina refuses to listen and insists that she doesn't have a problem and doesn't need rehab," the source said.
When RadarOnline.com contacted Dina about the reports that Lindsay had to choose between sobriety or her and she said: "Total lie....my x is spreading that vicious rumor. Or someone in his camp."
She also said she was still close with Lindsay.
The source said it will be an uphill battle to get Dina into treatment.
"Getting Lindsay to go, even though it was ordered by the court, was almost impossible and it seems like Dina is going to fight even harder than Lindsay did to stay out of rehab."
Michael Lohan vehemently denied to RadarOnline.com that any negative comment regarding Dina came from him or his camp. Michael said "I and the people around me only want the best for Dina and if any personal matters had to be discussed it would be done in private."