Radar Told You First! Diane Sawyer Stepping Down, Picks David Muir Over George Stephanopoulos For Replacement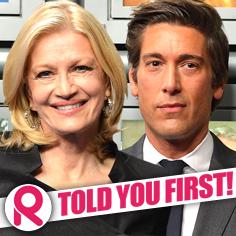 ABC announced on Wednesday that Diane Sawyer would be stepping down as anchor of World News, and would be replaced by her close pal, David Muir. However, that was old news to RadarOnline.com readers! Radar broke the story last year that Sawyer was already grooming Muir to be her replacement — and that co-worker George Stephanopoulos was peeved over the pick.
"After wonderful years at World News I decided it is time to move to a new full time role at ABC News,"Sawyer said in the announcement Wednesday.
Article continues below advertisement
She explained she'll be "dedicated to enterprise reporting, innovative approaches to breaking news and new ways of thinking about big issues and events around the world," and that Muir had replaced her.
Behind the scenes, Sawyer had vetoed Good Morning America co-host, George Stephanopoulos as her replacement.
"Diane has been telling her bosses in the news division at ABC that George would be a terrible replacement for her when the time comes for her to hang it up," a source previously told Radar. "She doesn't think viewers in primetime like his interviewing style, and the tone of his delivery. He can come across as very condescending."
"The only suitable replacement in Diane's opinion is David Muir," the source said. "They are very close friends, and Diane has taken David under her wing, and truly mentored him. She has become one of his biggest champions and supporters. David has been the anchor of the weekend edition of World News, and he frequently substitutes for Diane. When George fills in for Diane, the ratings actually go down, and you can't argue with the numbers."
Now, ABC has promoted Bill Clinton's former press secretary as chief anchor for the network, and he will anchor all the breaking news reports and election coverage.
World News recently beat NBC Nightly News during May sweeps in the crucial 25-54 age bracket.
Sound off in the comment section below. Do you think Muir is a good replacement for Sawyer or would Stephanopoulos be better?