Summertime Livin's Easy For Breezy: Chris Brown Freed From L.A. Jail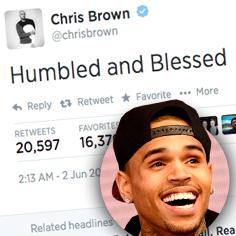 Chris Brown is a free man.
The R&B superstar has been in custody for more than two months after he was kicked out of a rehab facility, violating his probation in his infamous Feb. 2009 beating of then-gal-pal Rihanna.
The "Forever" singer was released from a facility in Los Angeles County at 12:01 a.m. Monday, Los Angeles Sheriff's deputy Tony Moore told the AP.
Brown tweeted upon his release, "Humbled and Blessed … Back to the Music and the Fans … Thank you GOD."
Article continues below advertisement
Per the terms of the judge, the talented singer-dancer must finish about 800 hours of community labor upon his release.