'Don't Try So Hard' – Crocodile Hunter's Daughter Bindi Irwin Scolds Girls For Dressing Inappropriately, Receives Backlash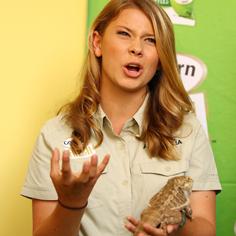 Only 15-years-old, Bindi Irwin already has some sage advice for her peers. But what she perceives as a good suggestion has been severely criticized by others.
In an interview with News Corp Australia, the Crocodile Hunter's teen daughter said that she is a huge advocate for girls dressing their age so they can spare themselves the shame later in life.
"I almost wish I could tell young girls, 'Look, in 10 years when you look back at yourself, you'll cringe honey, honestly… Just dress like who you are. Don't try so hard. A pair of jeans and a T-shirt is just as gorgeous and even makes you look classier,'" she said in the interview.
Article continues below advertisement
She went on to say that dressing conservatively doesn't mean girls can't have fun with their wardrobe choices. In fact, Irwin, who spends most of her days in khakis working at the Australia Zoo, says she enjoys being creative with her clothing.
"I suppose the last year or so really I've been starting to have some fun and see what I can do with make-up and wardrobe and be a little bit of a girlie girl," she said. "Finding that great line between comfort and looking semi-good is fantastic."
But not everyone agrees with the young Aussie. Australian actress and #FreeTheNipple advocate Caitlin Stasey didn't take Irwin's comments too lightly. She tweeted: "Open letter to bindi, in ten years you'll wish you stood beside your shared sex rather than be proud you belittled their choices & agency"
Stasey continued in her "open letter" saying, "You may want to stay dressed, stay covered. But do we really think one person should be dictating how all others dress or how to express themselves? … I hope you understand that this argument is about female behavior again being micromanaged by the media while male behavior remains unrestricted."
Do you agree with Irwin or Stasey? Sound off in the comments below!