Outrage! Fans SLAM Khloe Kardasian For Posing In Native American Headdress At Niece North West's First Birthday Party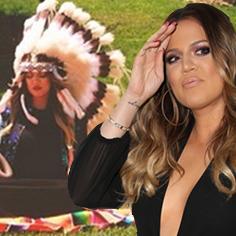 Article continues below advertisement
"Just a little rude and disrespectful!!!" posted one Instagram follower. "Headdresses are for a ceremonial purpose and NOT A COSTUME!!!"
"I am Native American . . . a head dress is not a toy…it's a meaning of honor to the ones who have fought in war!" explained another. "It's not an accessory!!"
"Oh, Khloe. You should know better," another stated simply.
And perhaps she should: Pharrell Williams faced backlash after posing in a headdress on the July issue of U.K.'s Elle magazine.
'I am genuinely sorry,' the musician, 41, told Buzzfeed. 'I respect and honor every kind of race, background and culture."
And Khloe's own mother, Kris Jenner, previously upset the Native American community when she used the term "Indian giver" during a 2011 Good Morning America appearance.
Should Khloe apologize and take down the offending photo? Sound off in the comments.