Things Are Getting CrazySexyCool Between Rihanna And TLC – 'Disturbia' Singer Blasts Girl Group On Twitter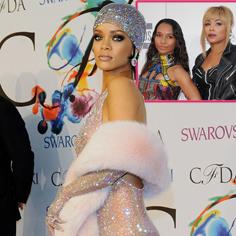 No stranger to Twitter feuds, Rihanna is now in a social media war with Tionne "T-Boz" Watkins and Rozonda "Chilli" Thomas from iconic '90s girl group TLC.
After supporting Scout Willis' #FreeTheNipple campaign on the social media platform, Rihanna decided to expose her own nipples in a very revealing dress at the CDFA awards.
In a recent interviewing in the UK, T-Boz blasted the "Stay" singer's wardrobe choice.
Article continues below advertisement
"Every time I see you, you don't have to be naked," T-Boz said. "It's easy to sell sex."
She wasn't the only one to feel this way, as Chilli also voiced her opinion on the racy outfit. The singer even addressed the flack they get after speaking their minds.
"It's hard for us to say anything because any time we do, they say, 'Oh TLC must be jealous', but I call a spade a spade," Chilli said.
So, what was an openly mocked singer to do? Take to Twitter https://radaronline.com/photos/the-good-the-bad-the-outrageous-heres-what-your-favorite-stars-posted-on-twitter-this-week-11/, obviously.
Rihanna tweeted a picture of TLC which shows the trio topless and holding their boobs so as to cover up their nipples. Along with the photo, Rihanna added a smiley face, which seems very much like a "screw you" message.
The tweet has since been deleted, but the photo now has become Rihanna's banner picture.