Exclusive
Ex-Cruciating! Khloé Kardashian Openly Flaunting Fling With French Montana To Make Lamar Odom Jealous, Source Claims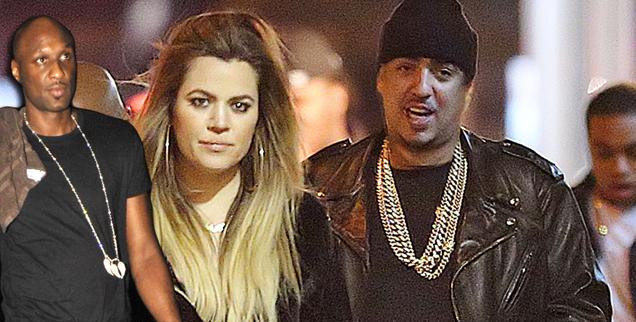 Five months after Khloé Kardashian filed for divorce from Lamar Odom, she's ready to start a new life with boyfriend French Montana – and she wants to make sure the NBA star knows it! After the trio's near-miss at an L.A. nightclub last night, RadarOnline.com has learned that the Keeping Up with the Kardashians star has been flaunting her new relationship with the rapper to make Odom jealous, especially now that he is back in L.A.
Article continues below advertisement
"Lamar decided to come to Los Angeles to meet with his family law attorney to file a response in Khloé's divorce petition," an insider told RadarOnline.com. "He had been putting it off long enough in the hopes that a reconciliation with Khloé would finally happen."
But in recent weeks, Khloé has made it clear that's wishful thinking. "She's been taunting Lamar about her relationship with French," the insider said. "She has told Lamar that French treats her like a queen, and she is very happy with him."
"It's really hard for Lamar to hear that, and he thinks French is a loser," the insider continued. "What has French Montana ever done? Before dating Khloé, who had ever heard of him?"
Tensions between the estranged spouses were high on Tuesday night in West Hollywood, when Odom, 34, was denied entry to Penthouse nightclub because his wife and Montana were already inside.
According to a source, Khloé set the whole thing up. "She had told Lamar she was going out on Tuesday night, and she told him where she would be," the insider said. "Lamar had wanted to talk to her in person. It was assumed Khloé would be out with French, but Lamar could care less about him. She didn't have to tell Lamar where she was going to be, but chose to.
Article continues below advertisement
"Lamar just wanted to say hello to Khloé," the source said, but it was not to be.
Regardless, the source revealed, "Khloé is loving all of the attention!"
REVEALED: 35 Secrets The Kardashians Want Hidden
Her family, however, is not as thrilled with the state of her love life. As RadarOnline.com previously reported, the 29-year-old reality star can't seem to stay away from the singer, but her close-knit family is not standing behind her this time.
"Kim is telling Khloé that she should be really careful with French after everything she just went through with Lamar," an insider previously revealed.
As Kim prepares to walk down the aisle with Kanye West, the source said Khloé has been bragging that her relationship is more stable than her older sister's could ever be.
"Kim has said that Kanye doesn't have any family problems or past relationships that hold him back from completely loving her and so that's what she wants for Khloé," the insider explained. "She wants to see her sister happy and she's worried that French isn't going to be able to fully commit to her sister. But the comparison irritates Khloé."
Article continues below advertisement
Nevertheless, Montana, 29,will be Khloé's date for sister Kim's wedding in Paris, RadarOnline.com has revealed, and the family is not pleased.
"Khloé wants to bring French to Kim's wedding in Paris, but Kim is pushing back because she doesn't like him at al," a family insider said. "Kim thinks French isn't a good fit for Khloé and doesn't want some random guy at the wedding," a family insider told RadarOnline.com.
"Momager Kris Jenner has also weighed in, saying it's to soon to bring French to family functions," the source said. "Khloé isn't having it though, and is absolutely freezing out the family. She isn't their phone calls and text messages. This relationship isn't serious according to Khloé, she just wants to have some fun after all of the drama with Lamar."
Meanwhile, Lamar will be "taking care of some other personal business matters while in Los Angeles. He is staying at his loft in downtown LA. While Lamar has friends in Los Angeles, his life is no longer there, but in New York City," the source added.