Khloe Kardashian To Give Lamar Odom A Second Chance? Love Rat Confesses: 'I Want To Make It Work'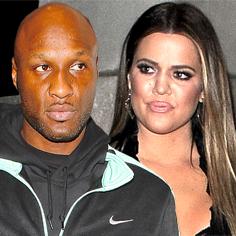 Despite filing for divorce from Lamar Odom, Khloe Kardashian is reportedly giving her troubled relationship another chance, despite warnings from friends and family.
After Kardashian had a change of heart, her estranged NBA hubby confessed he was a changed man and wanted to work on their marriage.
"I want to make it work with Khloé," Odom exclusively told In Touch while at his hotel in New York City, where he's undergoing physical therapy before returning to Los Angeles.
Article continues below advertisement
"He confessed his feelings and cried his heart out to her on the phone," the family insider said.
"She'd been avoiding his texts and calls for weeks, but when she heard him pleading with her to take him back, she melted."