Exclusive
Keep Tori Away From My Child! The REAL Reason Dean McDermott's Ex Tried To Ban Spelling From Seeing Her Stepson -- REVEALED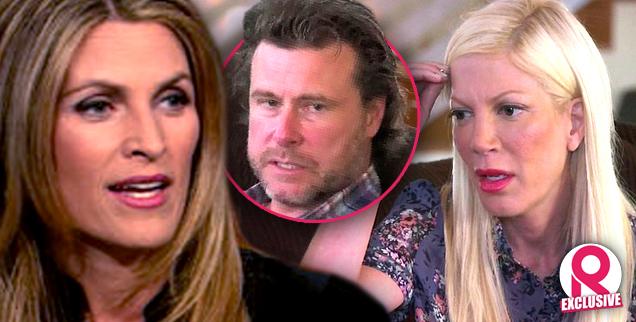 "I have a good relationship with my stepson, Jack," Tori Spelling said of Dean McDermott's son with his ex-wife, Mary Jo Eustace, in 2011. "The most important thing I learned was to make sure Jack knew I was never going to try to take his mom's place or be his mother." But it wasn't always that easy. RadarOnline.com has learned that Eustace tried to ban Spelling from seeing Jack during McDermott's bitter divorce after the reality star tried to forge a relationship with him behind his mom's back!
Article continues below advertisement
Eustace explained the predicament in a 2005 sworn declaration made during the divorce proceedings and obtained by Radar.
When preparing for Jack to visit his dad, she said, "I asked Dean if it would just be him and Jack during the weekend. Dean stated, 'Yes, Tori will not be there....'"
But when Jack returned home on October 16, 2005, she said, "He told me that he had spent the weekend with Tori Spelling. Jack stated that Tori had helped him with his school project, that she took him to Build-A-Bear, that they went to the movies on the weekend together and ate out together."
Dean didn't reveal her true identity, Eustace claimed, explaining, "Jack said Dean told him Tori was an old friend and that she was married."
"It's not in Jack's best interest to rush Jack's introduction to and/or relationship with Tori Spelling or any other significant 'new mate' of Dean at this time," Eustace argued. "Jack loves his family and it's obvious that he is extremely upset and that he is mourning the loss of his family as he knew it."
Article continues below advertisement
"Jack needs time to process and deal with his feelings of upset and insecurity about the breakup of our family," she continued, asking the judge to ban Spelling from seeing him for six months. "Jack needs to build a new level of trust with Dean before Dean's significant other is introduced into their relationship."
What's more, she said, McDermott's "persistent efforts to immediately introduce Jack to Tori Spelling and have her physical presence in Jack's physical presence are not in his best interest."
Eustace asked the judge to prohibit McDermott from "having Tori Spelling sleeping at his residence while he exercises visitation with Jack." She also asked that he be "restrained from displaying photographs or other pictures of Tori Spelling at his residence or any places where Jack also spends time," and that he be barred "from referring to Tori Spelling as his girlfriend or a member of the family in Jack's presence, and from engaging in demonstrative displays of affection with Tori Spelling."
The judge denied most of Eustace's motion, but did prohibit Spelling from spending the night in the residence when Dean had custodial time with Jack.
The divorce between Eustace and McDermott was granted on March 13, 2006, after 12 years of marriage. He wed Spelling only weeks later on May 7, 2006. Eustace and McDermott share joint custody of their son, Jack.