The Curse Of Porsha Williams? Tamala Jones Splits From African Dictator's Son After He Was Linked To 'RHOA' Star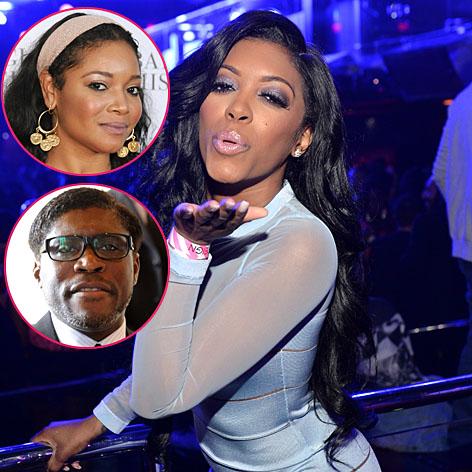 Hell hath no fury like a woman scorned!
Castle actress Tamala Jones has kicked her boyfriend Teodoro Ngeuma Obiang Mangue to the curb after he was romantically linked to Real Housewives of Atlanta star Porsha Williams, RadarOnline.com has learned.
Listen! 'RHOP' star Wendy Osefo breaks down the "most intense fight in the show's history" in under 2 minutes.
This week, Jones made it clear that she had officially split from her beau, the son of an African dictator, when a fan asked about her love life.
Article continues below advertisement
"Who is dumb enough to let you go?" one fan tweeted, to which Jones replied: "Correction ... I let him go … Had enough of the bs!"
And Jones is not crying over her lost love, telling another fan, "I feel liberated and do free."
Back in March, Williams made headlines with rumors that she had begun a new relationship with Mangue.
But Jones was quick to hit back at Williams' supposed scheme.
Directing her statement at Williams' handle, @Porsha4real, Jones vented, "Miss Porsha Williams … Now you know you should shame the devil & tell the truth! U grew up in the church & lying was never ok … You may have a man, but the one your sic claiming belongs to me! Check your pr or your head but don't step on my toes."
The tweet was later deleted.
Later, Williams released a statement denying she'd ever suggested they were dating.
"The TMZ report is completely false!" she said in a statement on March 14. "I do not know Teodoro Ngeuma Obiang Mange, nor have I ever dated him."
Jones' publicist had not returned Radar's recent request for comment.
Do you think Porsha had anything to do with Tamala's breakup? Tell us below!