Did RHOA Star Porsha FAKE New Relationship? Supposed African Boyfriend Slams Rumors They Are Dating -- And His REAL Girlfriend Accuses Her Of Doing It For Publicity!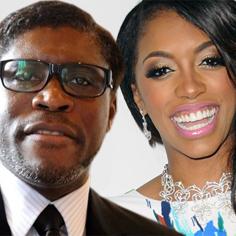 Porsha Williams (formerly Stewart) made headlines earlier this week with rumors that she had begun a new relationship with Teodoro Ngeuma Obiang Mangue, the son of an African dictator. But maybe she forgot to clear the news with her supposed boyfriend first? Mangue and his real girlfriend, Castle actress Tamala Jones, were quick to hit back at Williams' supposed scheme.
Mangue's publicist released a statement that reportedly read, "The story is circulating that my client Teodoro Ngeuma Obiang Mangue, son of President of Equatorial Guinea is dating Real Housewives of Atlanta star Porsha Stewart. When he is in fact dating actress Tamala Jones, from ABC's Castle."
Article continues below advertisement
Jones was quick to release a statement of her own on Twitter, suggesting Williams had cooked it all up for publicity
Directing her statement at Williams' handle, @Porsha4real, she vented, "Miss Porsha Williams … Now you know you should shame the devil & tell the truth! U grew up in the church & lying was never ok … You may have a man, but the one your sic claiming belongs to me! Check your pr or your head but don't step on my toes."
She later deleted the tweet.
In the face of their reaction, Williams later released a statement of her own denying she'd ever suggested they were dating.
Faked Scenes, Lies & Payoffs – The Ultimate Guide To Reality TV Shows
"The TMZ report is completely false!" she said in a statement Thursday. "I do not know Teodoro Ngeuma Obiang Mange, nor have I ever dated him."
Jones still seemed skeptical of Williams' motives on Friday, tweeting, "#shedlightontruth talk about what you know about & if you don't know anything be quiet so you can hear & be clear"
Do you think Porsha's supposed relationship was a publicity stunt? Or was it a rumor that was out of her control? Let us know in the comments!