'RHOA' Star Kenya Moore Blasts Porsha Stewart Over Divorce Woes: 'I'm Tired Of Hearing About It'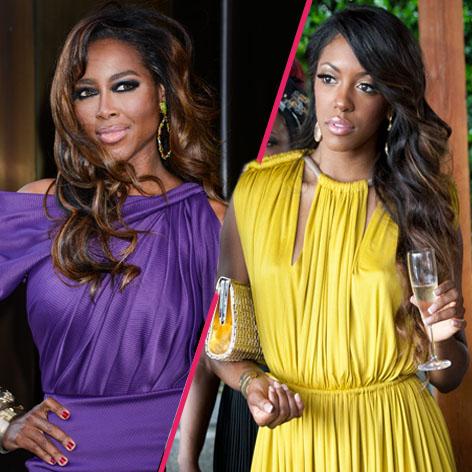 Real Housewives of Atlanta star Kenya Moore is sick and tired of hearing about Porsha Stewart's marital woes.
After Kordell Stewart's ex-wife claimed she was having a nervous breakdown over her divorce on Sunday night's episode, Moore accused Stewart of milking her divorce situation for sympathy.
"Maybe it is a bit insensitive of me to be tired of hearing about it," Moore wrote on her Bravo blog.
Moore went on to list number of reasons why she didn't have a lot of sympathy towards the divorce drama.
Article continues below advertisement
"When I hear one call their ex all kinds of gay queens, wanting to keep their ex's last name after they've slandered them, wanting a big divorce settlement after two years of marriage with no property and no children together, having employment of your own, or stating they will come back if the money is right and if he deals with his demons…. these blaring oxymoronic statements and feelings have strained my tolerance for this constant display of unsubstantiated emotional fragility," Moore wrote.
"There's only so much you can do."
In March, Porsha discovered her NFL star husband was filing for divorce, via Twitter. Of course, Bravo cameras caught the bitter divorce battle as it played out on RHOA.
As RadarOnline.com previously reported, the couple's divorce was finalized on Dec. 5, ending the pair's two-and-a-half year marriage.
"As a single dad, Kordell wanted to put his best foot forward by doing what was in the best interest of Syre. However, the lack of truthfulness by Porsha during the divorce has been very confusing and hurtful to Kordell and his son," Kordell's lawyer, Shiel Edlin told RadarOnline.com, referring to Porsha igniting rumors that the former Pittsburgh Steelers star is gay.
Edlin is "hopeful that Porsha will stop vilifying Kordell at every opportunity."
"For reasons we can't understand, she displayed reckless abandonment of anything close to the truth over the last eight months," Edlin added.