Porsha Stewart Defends The Husband Who Later Slapped Her With Divorce Papers On RHOA Reunion Part 3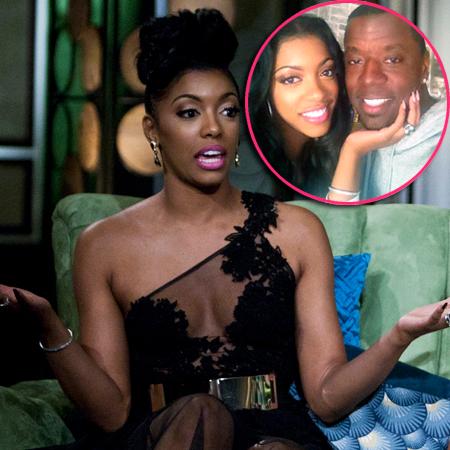 The Real Housewives of Atlanta Reunion Special: Part 3, came to a shocking end on Bravo Sunday night as fans saw Porsha Stewart defending the husband who later slapped her with divorce papers!
On a night in which the housewives' husbands and significant others joined them, Kordell Stewart hadn't even showed up to be with his wife on the reunion show.
And with Porsha left to make excuses for him, she cried to the other housewives and Bravo host Andy Cohen, "My husband loves me to the core!"
Article continues below advertisement
Well, maybe not? As viewers now know, Kordell filed for divorce from Porsha just one week after the reunion show was taped.
In the football player's absence, the trophy wife did her best to defend her controlling husband to the other ladies. "We're doing great. We're so passionate about making our family work," she insisted, but then admitted, "We're still going through some struggles." But Porsha felt the other women had judged her marriage harshly without knowing them. NeNe Leakes told Porsha that Kordell wasn't a supportive husband and Porsha said of the housewives, "I wanted to learn some things from them. I didn't get that--I got knocked down. I felt very judged. I'm a wife and I'm not perfect and Kordell is not perfect by far!"
In fact, Porsha also asserted she wanted to have her own career, which Kordell had objected to on RHOA. "I want to be strong like you and have a career as well!" she told the other ladies at the reunion. Still, the pampered wife, who surprised everyone during the reunion by singing Amazing Grace, added, "My life is beautiful. My husband buys me gifts all the time." But after the divorce filing, those days are probably done.
Article continues below advertisement
Another big topic on the reunion show was the reality TV soap opera of Kenya Moore and boyfriend Walter Jackson. During the show, Kenya claimed she hoped to marry him, but when he balked, the actress-turned-reality-star ended the relationship. However, after the RHOA started airing, Walter charged that Kenya HIRED him as her boyfriend to get cast on the show. Kenya staunchly denied it, telling Andy, "No, absolutely not. I would not waste my time pretending to be in a relationship when I have a world wide stage to find a man. I was a nice person to him and he was an a--hole to me! I lied to myself thinking he cared about me."
Kenya also denied she had accused Walter of being gay, saying she just had "questions about his sexuality." Shockingly, Kenya said she never went all the way sexually with Walter, only performing intimate acts besides intercourse! A stunned Kandi Burress laughed, "You never tested the goods!"
None of the other housewives or their men believed Kenya and Walter had a real relationship. But she went into her "Gone with the Wind fabulous" twirl and snapped, "You say I'm fake, I say I'm fabulous."
Article continues below advertisement
When Andy asked about her current romantic status, however, Kenya appeared to be quite sincere when she told everyone, "I am so happy right now" and burst into tears. Although the fitness video star didn't want to talk about her new romance, NeNe said helpfully, "Kenya really does want to have a baby and husband."
Meanwhile, Kenya's nemesis Phaedra Parks accused her of propositioning her husband, Apollo Nida. "Flirting with someone does not a whore make," Kenya sniffed. And then, in a reference to Apollo's troubled past, Kenya told Phaedra, "I"m not the one who had sex with a convicted felon!" Apollo said he didn't like Kenya, but she threw it right back at him: "Maybe you should stop texting me, then!" Apollo charged that Kenya tried to "get with" him and Phaedra seethed, "She's a whore."
Watch the video on RadarOnline.com
Whew! At the end of the reunion, NeNe playfully suggested they look for another Real Housewife of Atlanta: "We need to replace a person!" she said, without saying who she has in mind!