Exclusive
Could Paul Walker Have Lived? Widow Of Man Killed Driving Actor's Death Car Sues Porsche Over Alleged Engineering 'Failure'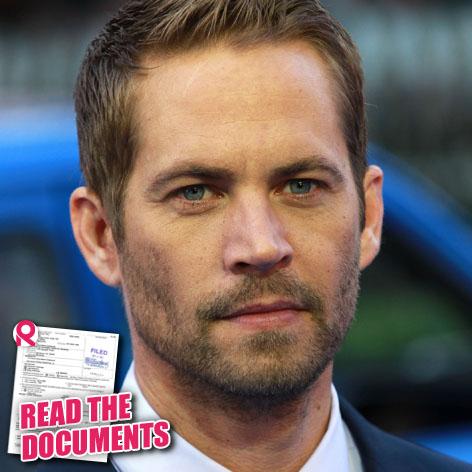 Nearly six months after the fiery crash that killed actor Paul Walker and the driver of the car, Roger Rodas, RadarOnline.com has learned that Rodas' widow Kristine Rodas, has filed a negligence lawsuit against the German automaker claiming they are responsible for the death of her husband.
Walker and Rodas were killed on Nov. 30 in Santa Clarita, Calif. after attending a charity event for their Reach Out Worldwide organization and taking the Porsche for a joyride that ultimately ended in a fatal fiery crash.
Article continues below advertisement
According to newly filed court documents, "On November 30, 2013, Mr. Rodas and Mr. Walker left the Reach Out Worldwide charity event in Mr. Rodas' 2005 Porsche Carrera GT. Mr. Rodas drove not more than a few hundred yards when the Porsche malfunctioned, crashed, and ended both Mr. Rodas and Mr. Walker's lives."
"The Porsche driven by Mr. Rodas went out of control due to the failure of a suspension component in the right rear wheel area," the documents claim. "The failure of the suspension component allowed the right rear wheel to twist to a left steer attitude ... Despite Mr. Rodas' attempt to steer the vehicle left in order to stay on the road, the Porsche continued its path off-road, ultimately ending in the fatal crash."
Kristine Rodas is being represented by Mark Geragos in the suit.
Rodas, 38, had no drugs or alcohol in his system at the time of the crash and his toxicology report came up clean.
Rodas also suffered multiple thermal and traumatic injuries, including a fractured skull, fractured jaw, fractured ribs, lung lacerations and contusions, pelvic fractures and charring of his entire body.
However, the California Highway Patrol determined the accident was Rodas' fault because he was speeding between 83-95 mph.
The lawsuit seeks unspecified damages, costs of the lawsuit, and attorney's fees.