Paul Hogan Reunites With Estranged Wife To Save Their Troubled Son: 15-Year-Old Chance 'Obsessed With Satanic Symbols' -- See The Disturbing Photos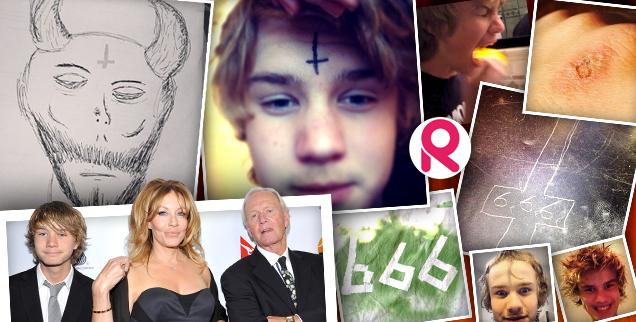 Paul Hogan's 15-year-old son Chance is obsessed with 666 and the anti-Christ, causing the Crocodile Dundee star and his estranged wife Linda to join forces in hopes of corralling him away from the dark path.
The 15-year-old has scrawled the Satanic numbers on t-shirts, paintings and written it across his forehead, sources said, as the teen has struggled to fit into any school, having often been on the move because of his celebrity parents.
Article continues below advertisement
The 1980s culture icon, 74, and his estranged wife Linda Kozlowski, 56, have led a nomadic life by their own admission, but now admit that could have been to the detriment of Chance's schooling.
Paul admitted in a November interview that with his son's current growing pains, his sole aim is to stay grounded and look after the wayward lad.
"I've moved the poor kid about eight times," he said, adding, "I'm a gypsy and he has been to different schools and I'm reluctant to drag him out."
The movie star has said he's going to keep a closer eye on his son, and won't ever move back to Australia — unless that's what his son wants as well.
Chance has grown his hair to his shoulders, smokes cigarettes and recently, displayed to friends a cigarette burn on his hand at his school in Santa Monica with pride.
Chance seems fixated with 666 and the upside down cross, insiders said, which has Satanic connotations. In his doodlings to mates, he shows off pictures of the devil and has even etched on a table the letters 666 by an inverted cross.
Article continues below advertisement
Even more disconcertingly, insider said, Chance has lived up to his name by lighting fires in his bathroom and trying to eat the flames.
"No biggie just eating fire #immortal #fireeater," he wrote on one of his late night social media posts.
An insider to the couple said that "Paul has to keep a close eye on Chance to make sure he keeps on the straight and narrow, as "it's a bit worrying that, at his age, he already smokes cigarettes and is posting pictures of burns.
"Paul's certainly got his hands full with Chance."
Regarding the impact on the constant moving might have had on Chance, the source explained how "the couple have pretty much lived all over California.
"In the last five years, they've moved twice in Malibu, then to Santa Barbara, onto Montecito, before settling in a rental apartment in Venice," the source said. "Chance has been moving from school to school and it's not done him much good."
Article continues below advertisement
The insider intimated that the constant moving around might have been the thing to sink the Hogan marriage, as Linda wanted to continue to travel the globe, while Paul wanted to settle down. Both are currently residing in Los Angeles to look after their angst-ridden son, and the positive effects haven't been overlooked.
You Can Sue For That? The 53 Wackiest Lawsuits
Paul and Chance "have really bonded over the last few months," with an Australian vacation last summer and a ski trip in Lake Tahoe in April.
"Chance has all the opportunities and can travel the world," the source said, "but what he needs most now is stability."
As far as Paul and Linda are concerned, they have certainly presented a united front for Chance, the source said, and "remain great friends … but there's no hope of them being a couple again.
"Once Chance is a couple of years older, he'll be moving away to college and that's when Paul feels the time could be right to move Australia and Linda goes off traveling again."