Teenage Exorcists Bring Charlie's Angels Flair: 'Satan Hates Us'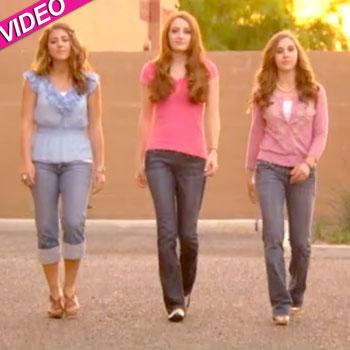 By Amber Goodhand - RadarOnline.com News Editor
Three young girls from Phoenix, Ariz. have formed a Charlie's Angels-esque squad for God, performing exorcisms — and possibly turning their plight into a reality TV show.
Brynne, 17, Tess, 17, and Savannah, 20, are all black belts in karate, big musical theater fans and expert horseback riders when they're not busy fighting the war they claim is "being waged against us" by Satan, ABC News reports.
Article continues below advertisement
"We're just normal girls who do something extraordinary for God. After seeing an actual exorcism in person, led by us, you will walk away with no doubt, whatsoever," Brynne said.
"There is a war going on every day, being waged against us. Satan hates us. We know how the enemy is, we know what he's attacking and we can fight back."
The girls are led by Brynne's father, Rev. Bob Larson, who claims to have performed more than 10,000 exorcisms over the past 30 years.
And not surprisingly, Bob says he's currently entertaining several offers for a reality show starring the three girls.
Brynne is known by the other girls as the "enforcer" and is said to head up the team. She's a regular on the beauty pageant circuit and is home-schooled.
Tess is known as "the middle man" because she's easily able to flop between the good-cop-bad-cop roles and often stars in musical theater productions.
Article continues below advertisement
Finally, Savannah is a college student and is the eldest in the group, known as the "compassionate one."
"When you look at that person, you could just see the evil looking back," Brynne said, explaining that 50 percent of the population is affected by a demon and she can easily spot them.
When the girls do an exorcism they bring Bibles and holy water, and summon the demon to take over the person's body — after Rev. Larson has interviewed the client and deemed them possessed.
"When a demon comes into someone, it's going to bring as many of its kind with it as it possibly can because its desire is to steal, kill and destroy that person's identity, that person's life," Tess said.
Rev. Larson says he's aware of the danger the girls are in by performing these exorcisms, but feels they're doing God's work.
"The Christian life is risky. Ministry is risky. Taking on the devil is risky. What's riskier? Saying no to God. Say no to God and the Devil's gonna get you," he said.
Article continues below advertisement
"We do this under Dad's supervision. We never do it alone," Brynne added. "He's been doing it for 30 years. He would know if something was going wrong."
But there's skepticism in what Rev. Larson and the girls do, and Rev. Darrell Motal of the "Soul & Spirit" Para Church told Nightline that he feels they may be taking advantage of people and that Larson is quick to blame someone's problems on possession, as opposed to a mental health issue.
And Roman Catholic priest Father Edward Beck thinks the young girls are too "unprepared" and "unqualified" to be performing exorcisms.
Rev. Larson, Brynne, Tess and Savannah do not work for free, and it usually takes more than one session to get the demon out.
"We have to fund what we do," Larson said.
Watch the teen exorcists in action below: